It looked like a pancake,
but it was creation flattened out—
the fist of God on a head of wheat,
milk, the unborn child of an unsuspecting
chicken — all beaten to batter and drizzled into a pan.
I brewed my tea and closed my eyes
while I ate the sun, the air, the rain,
photosynthesis on a plate.
I ate the time it took that chicken
and the energy it takes a cow to lactate a cup of milk.
I thought of the farmers, the truck drivers,
the grocers, the people who made the bag that stored the wheat,
and my labor over the stove seemed short,
and the pancake tasted good,
This poem first appeared in Dash Literary Journal 3 (Spring 2010).
Used here with the author's permission.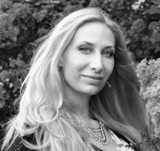 Melissa Studdard lives in Texas with her extended family and four sweet, but mischievous, cats. She does all kinds of writing, from humor to middle grade novels to poetry; a poetry collection, which shares the title of this poem, is forthcoming from St. Julian Press in the fall of 2014. Melissa loves reading and writing poetry and tries to memorize one poem a week. She also teaches at Lone Star College-Tomball and The Rooster Moans Poetry Cooperative, and hosts Tiferet Talk radio, an interview program that focuses on writing as a way to foster peace in the individual and the world. Learn more about Melissa at www.melissastuddard.com.
melissa Studdard:
Thank you all for your kind comments. It's been a delight to see my poem at this great site and receive all of your feedback!
Posted 04/03/2014 09:55 PM
Wilda Morris:
A wonderful reminder - in a lovely poem. Thank you for this!
Posted 04/02/2014 08:35 AM
Hosea Owen:
That was splendid.
Posted 04/01/2014 12:21 PM
RICHARD:
Lovely!
Posted 04/01/2014 11:23 AM
Sharon Urdahl:
Thank you for the smile to start my day. A clever, humorous, humbling poem on gratitude...
Posted 04/01/2014 10:39 AM
melissa Studdard:
What a delight to wake up to all these great comments today. It's like a virtual breakfast together. Thank you all so much for taking the time to post!
Posted 04/01/2014 09:55 AM
Cindy:
What a joy to appreciate the truth that is in little things.
Posted 04/01/2014 09:09 AM
dotief@comcast.net:
Very nice!
Posted 04/01/2014 08:17 AM
Phil:
Love your humor and the undeniable truth that I should not take for granted what I consume in the blink of an eye.
Posted 04/01/2014 07:56 AM
Larry Schug:
As we all know, we eat but are also eaten. You speak truth, Melissa.
Posted 04/01/2014 07:42 AM
Joanna:
I loved the unusual route you traveled to thankfullness. Lovely poem!
Posted 04/01/2014 07:24 AM
JanetruthMartin:
Love this...the two simple lines at the end perfectly powerful!
Posted 04/01/2014 06:25 AM
gigi:
Delicious poem, an encapsulation of the great world around us. I'll read it again with my slow-cooked steel-cut oatmeal. Thank you, Melissa, for more of what is, of course, always expected from you.
Posted 04/01/2014 06:21 AM
paula:
Eating time--what a thought. Great poem.
Posted 04/01/2014 06:06 AM
melissa Studdard:
Ross, Your comment is practically a poem. Cheers and apricots and figs and exotic tea to you. Thank you!
Posted 04/01/2014 02:50 AM
Ross Kightly:
Splendid poem of celebration of the world's abundance! I reflect likewise as I take my customary early snack of dried apricots and figs from Turkey and wait for my cup of Tippy Golden Yunnan tea from China to become not too hot to scald my delicate old mouth. Thank you Melissa.
Posted 04/01/2014 01:02 AM