Evenings, they rent
out. Wedding reception
guests winding in
and out between glass cages
that reflect back
delight in fearing
its trapped
spectators.

A martini with the Black Mambas,
hors d'oeuvres with the Indian Pythons,
chicken with the un-fried
two-toned arrow-poison frogs
and their nervously twitching legs.

At 10:00, the bride rides the Aldabra Tortoise,
her long gown wound around her elbow
or flung wildly down, zigzagging its trail
in dirt transplanted
from some Pennsylvania farm
where optimistic rodents dream
of gulping pit vipers
whole.

It is slow going.

Metamorphosis is the vow of the hour,
hanging in the ever-changing air
like an overdone toast
mixed with Twisted Sister.

No French-kissing here
in full view of forked tongues
but there's a tense attempt
when the couples' lip rings clink
at each rattle of the wine glass.

It is all the Common Iguana can do
to not smirk when the tattooed groom
tries to smile, line-dancing his way
along Amphibians' Lane.

Soon everyone sips and hisses;
the quietest drunks leave
their skins behind.

Later, the DJ howls outside
the crocodile pit where four-star acoustics
uncoil the sound
to the local penitentiary
and inmates bet
on accidental deaths.

From Local News from Someplace Else (Wipf and Stock, 2013).
Used here with the author's permission.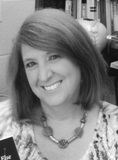 Marjorie Maddox is a professor of English and director of Creative Writing at Lock Haven University. At the age of 8, Marjorie published her first poem in Campfire Girls Magazine. Twelve books later, she still loves writing poetry, fiction, creative nonfiction, and children's literature. Marjorie is the great grandniece of Branch Rickey, the Brooklyn Dodgers? general manager who helped break the color barrier by signing baseball great Jackie Robinson. Learn more about Marjorie at www.marjoriemaddox.com.
paradea:
It's not enough to listen! You have to see the page, read the words! I love this! What a fun and interesting poem!
Posted 04/13/2014 08:37 AM
mmaddoxh:
Thanks, all! You may enjoy hearing this one read: http://www.youtube.com/watch?v=cGyAQmyG5C8
Posted 04/12/2014 09:45 PM
Jo:
I can't say it any better than Ross. Taking a wild ride on a Saturday morning meant for chores--what fun. Thanks Marjorie.
Posted 04/12/2014 09:41 AM
Ginny C.:
Definitely not boring! Loved the humor in it.
Posted 04/12/2014 09:35 AM
Cindy:
A really interesting poem - anyone who thinks poems are boring should read this one!
Posted 04/12/2014 08:58 AM
Rwswanson:
rwswanson: What a jewel of description, and the choice of subject is charming
Posted 04/12/2014 08:08 AM
plgoodman:
Great way to begin the day, Marjorie! Some of your lines are a howl - the "quietest drunks leave their skins behind". Hysterical. Thanks for waking up my funny bone.
Posted 04/12/2014 07:30 AM
phebe.davidson@gmail.com:
I love the way this poems winds itself to an (apparent) ending.
Posted 04/12/2014 07:19 AM
Ross Kightly:
Wheeeeeeeee! (Etc.) As we say in my Country: WHAT A LITTLE RIPPER OF A POEM! I love the edgy Surrealism all the way through, but particularly the surprise and disturbance created by the final couplet. Bravissima!
Posted 04/12/2014 01:56 AM