uncontrollably undisciplined
we all out flinging flowers
that April is here and isn't
she almost embarrassingly
beautiful and isn't it ill-bred
of us to skip along unfettered
and isn't it unbelievable
that no one is going to tell April     
her blouse has come undone?
© by Jeanie Tomasko. 
Used with the author's permission.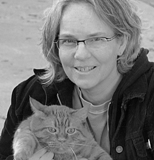 Jeanie Tomasko is a home health nurse in Madison, Wisconsin. Author of Sharp as Want (Little Eagle Press), a poetry/artworks collaboration with Sharon Auberle, and Tricks of Light (Parallel Press), she has three cats and enjoys all things nature, especially birds and long walks. Three new chapbooks are forthcoming.
Kathleen Carlson:
Wow! What lovely, exciting images...such fun. Thank you, Kathleen
Posted 04/15/2014 02:01 PM
jtmilford:
You undoubtedly captured the look and feeling of April. Thanks for a truly fun poem.
Posted 04/14/2014 08:58 PM
April in CA:
This poem makes me want to go out and "un" something.
Posted 04/14/2014 06:29 PM
jeanie:
sweet! thank you all.
Posted 04/14/2014 05:32 PM
plgoodman:
What an act to follow! whoopee!
Posted 04/14/2014 04:59 PM
paula:
What fun! What great use of language!
Posted 04/14/2014 02:50 PM
Ginny C.:
Great poem, happiness spilling out all over the place, and yes, I loved the sheep photo too!
Posted 04/14/2014 11:25 AM
KevinArnold:
A wonderful poem enhanced by the sheep photo Jayne found. I happen to be returning to the mainland from Kauai, a tiny bit sunburned from floating in the warm ocean, so this poem hits home. I'm trying to normalize this with Eliot's 'cruelest month' and can only find him an old stick in the mud. APRIL is the cruellest month, breeding. Lilacs out of the dead land, mixing. Memory and desire, stirring. Dull roots with spring rain. Winter kept us warm, covering ... yep, stick in the mud.
Posted 04/14/2014 11:14 AM
wordsmith:
Love, love, love this!
Posted 04/14/2014 10:54 AM
wendy morton:
Unhinged, unbuttoned!! Let us be like that every month.
Posted 04/14/2014 10:53 AM
Richard Greene:
Marvelous poem.
Posted 04/14/2014 10:39 AM
erinsnana:
I love this! The last stanza is wonderful!
Posted 04/14/2014 10:28 AM
peninsulapoet:
Makes me a little unhappy that spring is unexciting in Long Beach. Donna Hilbert
Posted 04/14/2014 09:40 AM
Cindy:
I love this poem!
Posted 04/14/2014 09:00 AM
Wilda Morris:
Wonderfully unfettered poem! Love it!
Posted 04/14/2014 08:09 AM
Barry:
Wow!!
Posted 04/14/2014 08:08 AM
Ralph Murre:
I don't know if a poem can ever be perfect, but this comes about as close as anything I've seen. It's that un- wrong.
Posted 04/14/2014 07:50 AM
paradea:
Fabulous! Love it!
Posted 04/14/2014 07:39 AM
jeeger:
Simply genius!
Posted 04/14/2014 06:56 AM
Donna Pflueger:
WOW,Jeanie! Your poem is alive! And uplifting! What energy - I especially love the ending. I'll never look at April the same way again. Thanks.
Posted 04/14/2014 06:50 AM
rksanders@charter.net:
April! Yes! I absolutely love the last stanza. Thank you, Jeanie.
Posted 04/14/2014 06:44 AM
Maryann Hurtt:
Your poem will at least give me spring spiritually, even though out my window snow flakes keep looking bigger and bigger. Yikes and thank you for hope.
Posted 04/14/2014 06:37 AM
mimi:
I LOVE this! makes me feel all springy, even though there's a blizzard happening right now--thanks, Jeanie!
Posted 04/14/2014 06:01 AM
Gary Busha:
Yes!
Posted 04/14/2014 05:29 AM
Janet Leahy:
Unabashedly, undeniably, unmistakably fun!! Thanks Jeanie
Posted 04/14/2014 01:44 AM