Giuseppe, da barber, ees greata for "mash,"
He gotta da bigga, da blacka mustache, 
Good clo'es an' good styla an' playnta good cash. 

W'enevra Giuseppe ees walk on da street, 
Da peopla dey talka, "how nobby! how neat! 
How softa da handa, how smalla da feet."

He raisa hees hat an' he shaka hees curls, 
An' smila weeth teetha so shiny like pearls; 
O! many da heart of da seelly young girls 
                        He gotta. 
            Yes, playnta he gotta— 
                        But notta 
                        Carlotta! 

Giuseppe, da barber, he maka da eye, 
An' lika da steam engine puffa an' sigh, 
For catcha Carlotta w'en she ees go by. 

Carlotta she walka weeth nose in da air, 
An' look through Giuseppe weeth far-away stare, 
As eef she no see dere ees som'body dere. 

Giuseppe, da barber, he gotta da cash, 
He gotta da clo'es an' da bigga mustache, 
He gotta da seely young girls for da 'mash,' 
                        But notta— 
            You bat my life, notta— 
                        Carlotta. 
                        I gotta! 
This poem is in the public domain.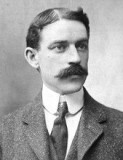 Thomas Augustine Daly (1871 – 1948) was born and raised in Philadelphia where, working as a grocery clerk as a teenager, he developed an ear for dialect. A versatile writer who established himself as a respected journalist and poet, he was also a popular humorist and lecturer, and entertained audiences across the U.S., Canada, and England.
Sandy Jackson:
I recited this poem for my 7th grade English class in Central jr. High school in Kansas City, Mo. 1955. I have always remembered it. Such a fun poem.
Posted 11/14/2023 11:13 PM
bizzypainting46@gmail.co:
I recited this poem when I was in Valhalla Jr. High School, Valhalla, NY, with gestures and costume. I am now 85, and I too amaze myself sometimes.
Posted 02/25/2019 09:07 PM
Suzzaa 79:
I recited this poem in English class when I was in Pierrepont Middle School 6th grade in Rutherford,N.J. I also made a vivid poster in full color of how I thought Giuseppe would look.I remember his blacka mustache and his big round toed yellow shoes and his bowler hat.I received much applause from my classmates and a big smile from from my teacher(and she didnt smile that often.)I also received an a+ and a bonus point for the poster.That made me so happy. I presented the poster as a project for my art class and also got an A+. Recently the name Giuseppe came up in conversation and this whole memory came back to me very clearly. As I am now 79 I amaze my self sometimes.
Posted 09/13/2016 04:11 PM
Mary Lou Taylor:
Can't help but say this poem out loud. Such fun. And inspiring. We all could give our accents a try in a poem like this.
Posted 04/23/2014 06:30 PM
plgoodman:
Thanka Jayne fer da bigga laugh!
Posted 04/17/2014 12:52 PM
paradea:
Hahahahahaha! Loved this. I tried to "channel" the poet as I read it again and again with my best Italian Guiseppe accent. What fun!
Posted 04/17/2014 12:17 PM
erinsnana:
I absolutely loved it!!!
Posted 04/17/2014 10:55 AM
rtaylor947@aol.com:
A masterpiece of humor.
Posted 04/17/2014 08:48 AM
Donna Pflueger:
OMG! Thanks for posting this wonderful poem. As you suggested, I read it out loud and giggled my way through it!
Posted 04/17/2014 06:37 AM
KevinArnold:
Great find . . .
Posted 04/17/2014 01:24 AM
rhonasheridan:
This tickled me pink! Especially the last line. I laughed all through breakfast - thank you
Posted 04/17/2014 01:00 AM