Where hay was stored,
there are birds
now in the
ancient straw.

They come and go
through lost boards.
Lights of sky
break the chorus
of dark.

The rains come,
puddles pool
for baths
to cleanse
dusty feathers.
They fly in and out
of this place.
They have waited,
knowing it has
always belonged
just to them.


From Driving Home (Aldrich Press, 2013).
Used here with the author's permission.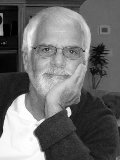 Jim Gustafson says, "Though I am old and 'wear the bottom of my trousers rolled,' I am a student in the MFA program at the University of Tampa." After a career as a clergyman and, later, a radio station manager, Jim is now focused on writing. His first book of poems, Driving Home, was released by Aldrich Press in January, 2013. Jim lives in Fort Myers, Florida; learn more about him at www.jimgustafson.com.
plgoodman:
Such a beautiful juxtaposition, Jim, but the way it is. Somehow they go together. Thanks.
Posted 04/23/2014 12:19 PM
JanetruthMartin:
I love old barns too; this poem captures the ambiance perfectly. suddenly I hear pigeons cooing in the rafters. thank-you for sharing yet another gem!
Posted 04/23/2014 11:52 AM
mimi:
yes, I love old barns--lovely image and so true...
Posted 04/23/2014 09:23 AM
Larry Schug:
This poem's title is enough to grab me and the poem, itself, paints a beautiful picture.
Posted 04/23/2014 07:28 AM