Years ago you sent me the heart meditation of  . . .
gosh, the man's name has just flown out of my head, 
but he wrote a book on silence, which I've loaned out 
so I can't put my hand on it and get it back—the name,
that is. The book is yellow. But, anyway, if you still have it,

the heart meditation, in the bowels of your computer 
somewhere, I'd love to get it again. Hope things are good 
with you there. They are here, except for my increasing 
difficulty in walking; my skill at circumlocution, 
the talk around a word desperately hoping someone 
can follow me, gets better. I was unable to come up 
with monastery the other day, though I was able to say 
it was the opposite of nunnery. No one was able
to comprehend what I was saying, but they were probably
not good at charades, either. Aha! His first name was Robert. 
Aha! Sardello. The long safari out of darkest memory bank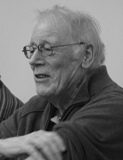 Nils Peterson is Professor Emeritus at San Jose State University. In 2009, he was chosen the first Poet Laureate of Santa Clara County. He has published poetry, science fiction, and articles on subjects as varied as golf and Shakespeare, and his work was featured in Local Habitations, a collection of work by fellow poets laureate of Santa Clara County. Enjoy reading Nils' memoir at http://www.echapbook.com/memoir/peterson/.
rhonasheridan:
Wonderful - it's not as if we have forgotten. - we have just filed it in the wrong drawer and it takes a wee while to find it. Thank you for a good laugh over breakfast. Now to try and remember where I put the marmalade!
Posted 05/16/2014 01:26 AM
poetronics:
Authentic and beautiful read... Now I want to research Robert (Aha!) Sardello!
Posted 05/05/2014 08:33 PM
KevinArnold:
A man and poem of great courage and perspicacity.
Posted 05/05/2014 08:42 AM
Mary Lou Taylor:
Nils' memoir is a culmination of so many of his wonderful poem made now into prose. It's such a beautiful read. I hope you read it; it will be an experience.
Posted 05/04/2014 06:06 PM
TheSilverOne:
Although I'm 70, I relate...alas.
Posted 05/04/2014 04:46 PM
plgoodman:
Perfect, Nils. You make it funny, and it really is!
Posted 05/04/2014 02:51 PM
Jo:
The best way to approach it Nils. Humor helps. Really like your poem.
Posted 05/04/2014 10:48 AM
mimi:
old age is not for sissies--good words!
Posted 05/04/2014 08:18 AM
paradea:
Humor is the greatest way to attack a thing over which we have no control. Love the poem, Nils!
Posted 05/04/2014 07:47 AM
Gilbert Allen:
Fun, funny, and (alas) true
Posted 05/04/2014 07:19 AM
lincolnhartford:
Going over to breakfast with my local buddies, to play a game of charades. They're good. It's the expansive vocabulary that is the problem, don't you think? Fine poem.
Posted 05/04/2014 07:05 AM
phebe.davidson@gmail.com:
How true this one rings! A mere seventy, I read it with curious joy and---yes---a certain sense of companionship. Especially for "the book is yellow" which tends to be how I look for things these days: by color, boy shape, and (by golly) by words put together as well Peterson's
Posted 05/04/2014 06:04 AM
rhonasheridan:
Wonderful! Now all I have to do is post my Comment. Did you say I didn't have to post it? Really? I am in the same boat and loved your poem.
Posted 05/04/2014 05:03 AM
Ross Kightly:
P.S. I LOVE charades too... not everybody does though...
Posted 05/04/2014 02:42 AM
Ross Kightly:
I need a long thin wooden thing with a soft bit at one end and a pointy darker bit sticking out of the other end - oh, you know what it is... I could give this poem a double, treble... you know... mark you make with a long thin wooden thing to show you think something is good... oh, you know what I mean!
Posted 05/04/2014 02:40 AM