Travelís a foolís paradise
, so said Ralph Waldo Emerson:
A fool thinks heíll alter his life with a trip to Paris, Bangkok
or other exotic else, but finds, when opíning his luggage,
heís still brought along††himself.
†
A warning to trekkers about†
far-off†
travel, comes from
Henry David Thoreau:†Itís not worth the while, to go
'round the world, to count cats in Zanzibar . . .

most meaningful journeys occur†without ever leaving home;
no need to change the landscape, better instead, he said,
†
© by†Patricia Williams.
Used with the authorís permission.
†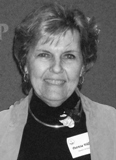 Patricia Williams retired from the University of Wisconsin - Stevens Point after 27 years of teaching design and culture. Her specialty was Chinese culture which, in their stylistic approach, some of her poems reflect. She writes in a variety of genres and has had work published in both online and print journals in the U.S. and England. Patricia lives in the countryside with her husband and is a member of the Wisconsin Fellowship of Poets. Her collection, Midwest Medley, is scheduled for release in late 2018 by Kelsay Books/Aldrich Press.


jtmilford:
Very true and very well stated. I leave home to not count cats.(all five)
Posted 05/13/2014 08:05 PM
Jo:
Exactly. So glad you put these words into your poem.
Posted 05/13/2014 02:13 PM
hujsaked@aol.com:
Nicely expressed. And yet, one can travel everywhere, in the pages of a book, before the fireplace. Ed Hujsak
Posted 05/13/2014 12:35 PM
Verse lover:
How true - Thanks for penning it. If you write in sonnet form, I invite you to check out grsf.org/sonnet
Posted 05/13/2014 11:27 AM
paradea:
I like this a lot!!
Posted 05/13/2014 09:06 AM
Cindy:
yes yes yes
Posted 05/13/2014 08:37 AM
Katrina:
Great!
Posted 05/13/2014 07:58 AM
Gary Busha:
No matter where you go, dogs run barefoot. But travel can benefit one, I guess. I liked this one.
Posted 05/13/2014 06:07 AM
erinsnana:
I love this! I usually travel alone, and I've been to Paris three times over the years. But, she is right: I open my suitcase and there I am, croissants notwithstanding!
Posted 05/13/2014 03:35 AM
Dorcas:
Absolutely wonderful. My feelings exactly. I play hermitage frequently.
Posted 05/12/2014 11:12 PM