Hello, Ohio / The back roads / I know Ohio / Like the back of my hand.
—Over the Rhine
My New Jersey cousin says it's boring
to run here in the rural area where I live,

past acres of corn and soybean and canola,

unyielding to variation,
landmarking nothing other than one full sweep

of green. I note each row as I go by,
listen to the prayers whispered by the leaves,

long and short,
which bow when summer heaps on heat

or rustle in praise after fresh fallen rain.
I am not the farmer who's planted the seeds

or moved among the stalks to measure
the wealth of his work or the ruins of deer.

I know that. I know I haven't really earned
what blessing this land gives.

But still, it's not boredom I feel
as I walk the dog along the road

for the umpteenth time,
sun sinking, lavender light spreading its wings,

gliding over these unflinching fields.

From Particular Scandals (Wipf and Stock, 2013).
Used by permission of Wipf and Stock Publishers.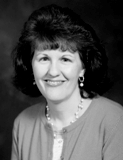 Julie L. Moore believes that writing poetry can be like a game, for it can manipulate language; satirize our clever, yet shallow, society; and even crack jokes. But that's not why she jots notes in her moleskine while washing dishes, playing summer tourist, or trying to endure prolonged and painful illnesses. For her, it's about saving a life: her own and—she hopes, if she's any good at it—someone else's. Author of Slipping Out of Bloom (WordTech Editions) and Election Day (Finishing Line Press), Julie's most recent book of poems is Particular Scandals, published in The Poiema Poetry Series by Cascade Books in 2013. Julie lives in Cedarville, Ohio; read more about her at
www.julielmoore.com
.
poetronics:
What a gorgeous offering. A poem for the day and for life to be read again and again. The blessing is you.
Posted 05/27/2014 12:29 PM
rhonasheridan:
I love what I call 'reality poetry'. The things you see that no one else seem to notice. Everyday things. It makes people appreciate what is on their doorstep. Ohio sounds wonderful.
Posted 05/26/2014 12:43 AM
penhart:
A beautiful poem, Julie!
Posted 05/25/2014 07:48 PM
plgoodman:
Lovely, Julie. What a treat a quiet contemplation can be!
Posted 05/25/2014 02:00 PM
gretchenfriel:
This is awesome, a blessing indeed! Thank you Julie :)
Posted 05/25/2014 10:14 AM
wyantjl42:
A quietly moving poem. What I most love is the measured pace of the narrator's thought as it unfolds gently before us.
Posted 05/25/2014 10:05 AM
KevinArnold:
That's a very satisfying poem. Thanks.
Posted 05/25/2014 01:02 AM
Ross Kightly:
Even if I may have a different view of why the leaves are making the sounds they do, I am so in accord with this powerful sense of place and one's role in it. "The wealth of his work or the ruins of deer". As ghc says, you have earned your right to celebrate. I wish you more than well in your life-saving endeavours. And I wish Ohio well too. Sounds like the Lincolnshire of my mind. Thank you, Julie.
Posted 05/25/2014 12:47 AM
ghctenmile@earthlink.net:
I think you really have earned the "blessing this land gives" by your appreciation--thanks for the poem you made from it. ghc
Posted 05/24/2014 11:54 PM