Leaving home
for work
each day

I hear the trees
say "What's your hurry?"
Rooted, they
don't understand

how in my world
we have to rush
to keep in step.

I haven't even time
to stop and tell them
how on weekends, too,
schedules wait
like nets.

It's only on a sick day
when I have to venture out
to pick up medicine

that I understand the trees,
there in all their fullness
in a world unpatterned

full of moments,
full of spaces,
every space
a choice.

This day
has not
been turned yet
on the lathe

this day
lies open, light
and shadow. Breath
fills the body easily.
I step

into a world
waiting like
a quiet lover.
© by Max Reif
Used with the author's permission.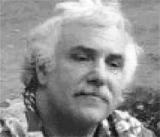 At 66, Max Reif still teaches preschool in Lafayette, California six hours a day. Widely published in a variety of journals, he is the author of two books of verse and a book of stories and essays, Toward an Interior Sun, is forthcoming.Max has also done a lot of visual art, plays guitar and harmonica, and has written a few songs. Learn more about him at his website, www.REALnothings.com.
maxreif:
Dear Commenters: These are VERY inspiring! So many really "got" the poem! I'm deeply moved! Thanks for speaking up! Max (author)
Posted 11/21/2014 08:58 PM
WilliamEverett:
Thanks, Max. Little wonder that trees have meant so much to people over the centuries--evoking beauty, wonder, and awe.
Posted 11/21/2014 08:25 AM
Dorcas:
When I went to work, now retired, it seems I could only find my tree on a sick day. Sad.
Posted 11/20/2014 10:51 PM
jtmilford:
A very meaningful poem that move me the reader in the right direction- unpatterned moments and spaces. Beautifully written.
Posted 11/20/2014 04:13 PM
Jo:
Just what I needed to hear this morning. Will read your poem again after this comment.Have you ever hugged a tree?
Posted 11/20/2014 09:55 AM
Wilda Morris:
Beautiful! And a great reminder - as I rush off to my first appointment!
Posted 11/20/2014 09:00 AM
rhonasheridan:
Over the years I have often found a tree to talk to. I can't really say why - but trees are so slolid - perhaps it's their stability as well as their beauty. Loved the poem
Posted 11/20/2014 01:20 AM
twinkscat:
I have claimed my tree--a tiny sugar maple.
Posted 11/20/2014 12:01 AM
KevinArnold:
Nice sense of mystery here on this sick day.
Posted 11/19/2014 11:12 PM