I see tiger swallowtails in our garden,
and, to let them know I'm glad to see them,
in that hospitable Spanish way,
These are macho mariposas,
living up to their feral name,
with black stripes on their wings.
When I approach they don't fly away,
"You think this is your garden?",
as patrons at a soda fountain,
will pirouette around each other
in helical dance

as if caught up in a whirlwind,

or romance.
© by Richard Greene.
Used with the author's permission.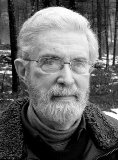 Richard Greene began writing poetry in the 8th grade, inspired by the opening lines of Longfellow's "Evangeline"—"This is the forest primeval. The murmuring pines and the hemlocks / Bearded in moss and in garments green, indistinct in the twilight"—which he was required to read in class. In college, after a classmate deemed Richard's rhyming poem "trite," he stopped writing until, several years later, a class with Henry Rago, then editor of Poetry magazine, inspired him to resume his efforts. But poetry fell by the wayside for almost forty years as a busy career in international development consumed his life. As retirement approached, however, Richard's dedication to poetry returned and he now shares a "poem of the week" with close to 200 readers, has self-published one book, Explorations (Antrim House Books), and is working on another. Learn more about Richard at www.greenepage.net.
Katrina:
I like the comparison to 'patrons at a soda fountain'; it helps to undermine all business of the Land Registry Office.
Posted 06/06/2015 05:52 AM
Supa:
Beautiful, I would love to visit his garden.
Posted 06/06/2015 05:37 AM