on the walk-in closet's floor,
The refrigerator's contents
Thanks, gentlemen, I'd like
This poem first appeared in Bay Area Poets Coalition Anthology 20 (1999).
Used here with the author's permission.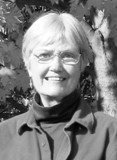 Patricia Wellingham-Jones is a former psychology researcher and writer/editor with poetry widely published in journals, anthologies and Internet magazines. Author of ten books, her work appeared most recently in The Widow's Handbook (Kent State University Press). Patricia has a special interest in healing writing and leads a cancer center writing group. She lives in Los Molinos, California.
Wilda Morris:
A fun poem. But after your son and his house mates read it, you might not be welcomed back after all! LOL
Posted 06/09/2015 10:51 PM
Dorcas:
Peer into new youth.
Posted 06/09/2015 12:18 PM
Joe Sottile:
Yes, spot-on. Bravo! Why fight what your child believes is the best of all worlds for him or her? You will only be remembered for lack of emotional support.
Posted 06/09/2015 12:27 AM
Mary Lou Taylor:
A poem so well done any mother of a grown-up son can relate to. i smiled throughout. i
Posted 06/08/2015 05:53 PM
transitions:
Enjoyed it! Far better to bite a tongue than lose a son -:)
Posted 06/08/2015 04:06 PM
Kathleen Carlson:
Such is the power of love.
Posted 06/08/2015 10:27 AM
Marilyn L Taylor:
Very well written, and spot-on. I enjoyed this fine poem, and as the mother of a grown son, related to it!
Posted 06/08/2015 07:39 AM
Katrina:
This makes me chuckle.
Posted 06/08/2015 05:12 AM
Supa:
Just love it.
Posted 06/08/2015 04:37 AM