in a tub filled with bubbles
but this is the first time
all day I have felt like living
being petted as I massage
This poem was a runner-up in Garrison Keillor's 2014 Common Good Books Poetry Contest and was read on NPR's Writer's Almanac on September 15, 2014.
Used here with the author's permission.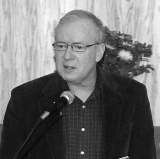 Edwin Romond  is a poet, playwright, composer, and educator. Now retired, he taught English for more than 30 years in Wisconsin and New Jersey. Edwin's award-winning work has appeared in numerous literary journals, college text books and anthologies, and has been featured on National Public Radio. He maintains an active schedule of readings and presentations (check www.edwinromond.com to see if he's appearing anywhere in your area) and his most recent book is Dream Teaching (Grayson Books). A native of Woodbridge, New Jersey, Edwin now lives in Wind Gap, Pennsylvania, with his wife and son.
gigi:
I love this poem. All of Ed's poems are very meaningful and filled with love and craft.
Posted 06/21/2015 03:12 PM
Lori Levy:
Beautiful the way "emptiness" is turned into "ecstasy."
Posted 06/21/2015 12:58 PM
Supa:
Gem is a good description.
Posted 06/21/2015 12:46 PM
Pat Brisson:
Edwin Romond has a talent for moving ordinary moments into the realm of the extraordinary, helping us to see the sacred in what many would consider mundane experiences. This one's a gem.
Posted 06/21/2015 12:13 PM
Jo:
Phebe, you said it so well. Just a wondrous poem.
Posted 06/21/2015 12:11 PM
Cindy:
I love this. A father who can celebrate the simple everyday life of a small son is indeed a treasure.
Posted 06/21/2015 08:30 AM
Wilda Morris:
No wonder Garrison Keiler liked it so well!
Posted 06/21/2015 07:11 AM
phebe.davidson@gmail.com:
Every time I see this poem, the world is a better place.
Posted 06/21/2015 06:33 AM
Supa:
WOW! This is just so wonderful, I'm having trouble finding words to express my feelings. Thank you, Edwin Romond
Posted 06/21/2015 05:18 AM
rhonasheridan:
One very good thing - one very good poem.
Posted 06/21/2015 03:19 AM