If they were about a thousand times bigger,
no one would think them cute anymore;
their unswerving reptilian stare might appear
life-threatening rather than goofy and endearing.
As it is, their antediluvian rock-like posture,
leathery dorsal spines, ashen-scaled underbelly,
general lack of elan vital, not to mention ambition,
good looks and animal magnetism, disqualify them
from the World Wildlife Fund's list of charismatic species.
Still, they soldier on with all the squat charm of armored
vehicles hunched between a bayonet yucca and a mountain sage
awaiting lunch, or to become some raptor's lunch--
whatever the next roll of the Darwinian dice ordains.
Poster children of the food chain, they never complain,
just do their lizard pushups, swivel turret heads-- then wait.
The toughest muscle in their body is the heat-seeking missile
of the tongue. If you mess with horned toads, they'll spit blood
in your eyes. With two pinholes for ears, they can hear an ant
scurry from a foot away. Dust-colored, cold-blooded, gumby boy
pterodactyls from the bottom of nature's cracker jack box
hugging their square inch in the sun.
This poem first appeared in the Atlanta Review.
Used here with the author's permission.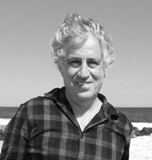 Richard Schiffman splits his time between New York City and the Sangre de Christo Mountains of New Mexico, where his nearest neighbors are elk and horned toads. His poems have been published widely and a collection of them, What the Dust Doesn't Know, is forthcoming from Salmon Press. Richard is also the author of two biographies and an environmental journalist, because he feels that poems alone may not be enough to save the Earth.
barbsteff:
Hornd toads honored in a fine poem.
Posted 07/02/2015 04:26 PM
rhonasheridan:
Haste makes waste! Third time lucky - ' weird ' !
Posted 07/02/2015 02:05 PM
rhonasheridan:
Swept away by sympathy I seem to have written ' wired'. Sorry - I meant 'weirded '
Posted 07/02/2015 02:03 PM
rhonasheridan:
Ooh! I love them.... More poems have been written about toads and frogs than any other wired animal. A beautiful poem - I almost shed a tear.
Posted 07/02/2015 02:00 PM
Lori Levy:
Great images of horned toads!
Posted 07/02/2015 11:39 AM
transitions:
The toads look so Jurassic...mini dinosaurs still reproachful, unhappy to be so far down the 'food chain' when they once ruled the world. But, they still have Attitude and this poem covers it beautifully. Great imagery, much enjoyed!
Posted 07/02/2015 11:37 AM
transitions:
The toads look so Jurassic...mini dinosaurs still reproachful, unhappy to be so far down the 'food chain' when they once ruled the world. But, they still have Attitude and this poem covers it beautifully. Great imagery, much enjoyed!
Posted 07/02/2015 11:30 AM
paradea:
Love this!!
Posted 07/02/2015 08:24 AM
plgoodman:
I love the tongue-in-cheek tone of this poem. It's informative yet fun. Nice job!
Posted 07/02/2015 07:51 AM
mimi:
when I lived out there, seems to me the Navajo considered them a good sign...kinda cute little critters...
Posted 07/02/2015 07:38 AM
vscholtz:
This is a great tribute to these homely critters. Especially like "roll of the Darwinian dice".
Posted 07/02/2015 06:45 AM
Supa:
Beautiful well written poem. Sent me to you tube to look for horned toads. One small quibble. They don't spit blood in your eyes, the blood comes from their eyes. Loved the poem, anyway. Wonderful use of the English language.
Posted 07/02/2015 03:39 AM
Supa:
Beautiful well written poem. Sent me to you tube to look for horned toads. One small quibble. They don't spit blood in your eyes, the blood comes from their eyes. Loved the poem, anyway. Wonderful use of the English language.
Posted 07/02/2015 03:16 AM