I crave the 9-amp flux wire welder
but I really need the 105-piece tool kit
and the retractable air hose reel
with 50-foot hose.

I wouldn't mind the tile/brick saw
but wood is really my medium.
The hydraulic table cart
has my name on it
and, oh, yes, I will take the small generator
for when things get cold here in Texas
and the lights go out.

The dual media
portable abrasive blaster
and the double-cut saw
will finish off my order, bring her back—

that ten-year old who liked to
build tree houses, who fought hard
to take shop instead of home ec
and was denied—banished to the
kitchen to place the napkins on the
left, under the fork, who was berated
for freezing defective raspberries and
leaving the freezer door open …

who dreamed of sawdust-smell, of building a great
structure in an oak, of hanging out in it
with just a cat for company, eating
K-rations and watching the sky.


© by Janet McCann.
Used with the author's permission.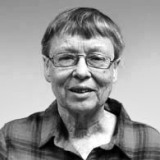 Janet McCann has been teaching creative writing and other vices to Aggies at Texas A&M for more than forty years. Her award-winning work is widely published in several genres. Janet's most recent collection is Emily?s Dress, published by Pecan Grove Press. She is concerned for feral cats and other beings who are overlooked or abused. 

Larry Schug:
Well, we didn't have shop; we had Religion (Catholic) which I've given upon and am still trying to figure out how to make things level and square. The girls, in another building did have home ec, now they probably micro-wave most meals. Thank goodness, we both had poetry! Great poem with much fodder for thought.
Posted 05/16/2018 09:03 AM
Judith Heron:
Well, being from the same generation where my first language of tools had to be hidden, I celebrate this well crafted liberation. Oh, yes!
Posted 07/06/2015 12:49 PM
Wilda Morris:
I'm glad that in my grandchildren's generation, boys AND girls had some shop and some home ec! A wonderful poem.
Posted 07/06/2015 09:56 AM
Marilyn L Taylor:
Really admired and enjoyed this, Janet.
Posted 07/06/2015 09:27 AM
erinsnana:
I loved this poem!
Posted 07/06/2015 08:56 AM
lincolnhartford:
sometimes being who you are is a lot of trouble, but it can lead to some really fine writing
Posted 07/06/2015 08:51 AM
Barry:
Love it!!!
Posted 07/06/2015 08:22 AM
KevinArnold:
Although I've never lusted after a portable abrasive blaster, this is a well-crafted gender-bender for sure! Supa's comment is spot on.
Posted 07/06/2015 08:02 AM
Supa:
You make hardware sound poetic and fascinating. Imagine! We wouldn't let girls do shop.
Posted 07/06/2015 07:55 AM
vscholtz:
Hope you have your tree house now. I love the message and the imagery.
Posted 07/06/2015 05:51 AM