Have compassion for everyone you meet,
even if they donít want it. What seems conceit,†
bad manners, or cynicism is always a sign†
of things no ears have heard, no eyes have seen.
You do not know what wars are going on
down there where the spirit meets the bone.
†
From The Ways We Touch: Poems. Copyright 1997 by Miller Williams.†
Used with permission of the University of Illinois Press.
†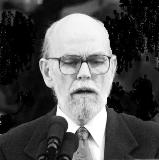 Stanley Miller Williams (1930 - 2015) was born in Hoxie, Arkansas, the son of an itinerant Methodist minister. He attended college planning to study English and foreign languages, but switched to biology after a school psychologist told him he showed no verbal aptitude and, ultimately, earned a graduate degree in zoology. Father of singer/songwriter Lucinda Williams, Miller published a total of 37 books of poetry and prose, was founding director of the University of Arkansas Press, and served as a mentor to many aspiring writers, including Billy Collins. Miller's own mentor was his good friend, Flannery O?Conner.
tostadora1:
WONDERFUL
Posted 01/14/2021 01:22 PM
transitions:
Beautiful, perfectly put - and the last line stops the heart. Loved it ~
Posted 08/03/2015 11:24 AM
Wilda Morris:
Excellent advice; excellent poem.
Posted 08/03/2015 10:40 AM
barbsteff:
Where the spirit meets the bone - great line!
Posted 08/03/2015 09:48 AM
rhonasheridan:
What a final line!
Posted 08/03/2015 12:40 AM
Joe Sottile:
In other words, be kind. You never know what baggage others are carrying.
Posted 08/02/2015 11:24 PM
peninsulapoet:
I love Miller Williams and this poem is great. I used it in my workshop a couple of weeks ago.
Posted 08/02/2015 01:28 PM
Walcottjm:
"where the spirit meets the bone" is a wonderful image.
Posted 08/02/2015 11:03 AM
paradea:
Always good to remember. Wonderful advice from a beautiful poem!
Posted 08/02/2015 09:05 AM
Glen Sorestad:
A favourite poem of mine from Miller Williams. Thanks for sharing this.
Posted 08/02/2015 08:32 AM
Cindy:
good advice
Posted 08/02/2015 08:22 AM
Barry:
So true, and beautifully said.
Posted 08/02/2015 05:40 AM
Katrina:
There may be a whole community of tendons, holding our universes together. It takes great strength to hold the balance.
Posted 08/02/2015 04:09 AM
jdoug84:
Lucinda set it to music at the start of her latest album, Down Where The Spirit Meets The Bone: https://www.youtube.com/watch?v=C4nD5Ee0v7M
Posted 08/02/2015 03:02 AM
KevinArnold:
Most interesting poem. Good find.
Posted 08/02/2015 02:14 AM