I took the part with ease –
dark glasses, helmet, jacket,
swinging my leg over the bike
and I said, "Keep going."
On a perfect summer evening,
a tinge of green coolness in the air
as youth, as all the songs
only the rumble of engine,
motion of speed and turn,
in the low, slanting sun.
© by Liz Rhodebeck.
Used with the author's permission.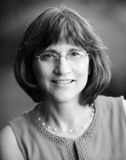 Liz Rhodebeck has loved writing since she was a child and gave poems and stories as gifts. Author of several chapbooks, she was awarded the Wisconsin Fellowship of Poets' 2014 Muse Prize. When she's not writing, Liz likes to dabble in art, and she's quite fond of bagpipe music. A ministry leader at her church where she lives in Menomonee Falls, Wisconsin, Liz is also a founding member of the faith-based group Grace River Poets. Learn more about her at http://www.waterwriter.com/.
transitions:
"Keep going", Liz and take us along for the ride! Wonderful poem -:) Judy W.
Posted 08/04/2015 06:35 PM
Cristina Norcross:
Great poem, Liz. Thank you for taking us on your journey! ~Cristina
Posted 08/04/2015 05:23 PM
Jo:
What a ride, Liz. Thanks so much.
Posted 08/04/2015 04:57 PM
loisflmom:
Liz, the ride is even better when you are on your own bike!
Posted 08/04/2015 04:57 PM
Lori Levy:
Made me feel like I was on that motorcycle, and I enjoyed the ride!
Posted 08/04/2015 11:52 AM
Walcottjm:
Really great images, thanks.
Posted 08/04/2015 09:12 AM
Cindy:
I like that "road smooth and open as youth."
Posted 08/04/2015 08:38 AM
Larry Schug:
Great ride! Thanks for taking us along.
Posted 08/04/2015 07:47 AM
Gary Busha:
Yes.
Posted 08/04/2015 07:20 AM
paula:
". . . song without words"--love that!
Posted 08/04/2015 06:44 AM