Last evening on my walk
I finally said "I love you"
to the trees.

It was inescapable,
those green arms so open
for any of us to walk
into their embrace night or day,
never rejecting even the loneliest soul.

And how watchful they are,
these neighborhood sentinels
so quiet and patient,
never calling attention to themselves,
anchored and anchoring,
role models who do not harm a gnat
and yet stand tall and strong,

ladders to the heaven in our hearts
which we climb at a glance,
or else spreading wide and round
like a great draped rustling quilt,

home to singers
and invisibly taking in 
un-breathable gas,
showering us in return
with oxygen's new life.

In their limbs
the breezes whisper secrets
we overhear just enough
to remind us the Ocean is very near,
even though we can't see it.

They serve so silently.
I have felt them before,
but last night,
when I spoke to them,
they answered.


This poem first appeared on Vox Poetica.
Used here with the author's permission.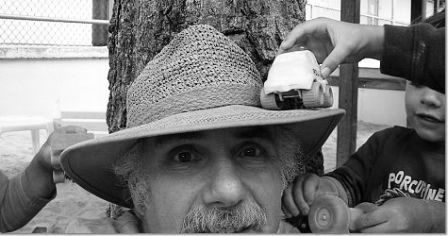 Max Reif has written thousands of poems and stories since receiving feedback in sixth grade that this was something he could do. Much of his verse involves the beauty that he feels underlies all existence. Sometimes that beauty is seen as, or in, nature; other times Max interprets it as some sort of "supernatural" reality. Max also loves laughter, which he considers another form of beauty, and he often incorporates humor into his poems. He lives in Walnut Grove, California.
rhonasheridan:
What a beautiful poem.
Posted 08/13/2015 02:04 AM
Jo:
From another "tree hugger." Such a beautiful poem. Thank you.
Posted 08/12/2015 09:03 PM
maxreif:
these comments are most wonderful! If we're not "tree huggers" I don't think we're fully in our senses! Happy that so many folks are! ♥
Posted 08/12/2015 12:55 PM
transitions:
I love them as well. Thanks for putting my thoughts into such a beautiful poem...
Posted 08/12/2015 11:32 AM
paradea:
Fantastic!!
Posted 08/12/2015 09:37 AM
Larry Schug:
This tree hugger says "Wow!"
Posted 08/12/2015 08:05 AM
Sherry:
This poem is beautiful!!
Posted 08/12/2015 07:55 AM
tiddles:
Beautifully stated.
Posted 08/12/2015 07:51 AM
Barry:
Very nice!!!
Posted 08/12/2015 07:28 AM
Katrina:
I love the personification of these 'sentinels'.
Posted 08/12/2015 04:35 AM
Vivi Steels:
As a lover of trees and poetry, this is the perfect poem for me. I love the intimacy the poet, Max, has with trees and re-creates for us, the reader, in wonderful words - 'green arms so open', 'neighbourhood sentinels', 'ladders to heaven', 'home to singers' - wonderfully original. One of my favourite poems on YDP.
Posted 08/12/2015 03:19 AM