The five of them, agile as monkeys,
climb the red maple in my neighbor's yard.
I'm watching from my kitchen window,
fearful of seeing one of them fall,
wondering if I should tell them to get down,
but not wanting to be known as the old woman
who yells at the neighborhood kids.
And besides, I can feel their sneakers on my feet,
can feel my heart beating through their tee shirts,
can feel my thigh muscles tensing,
ready to make that almost impossible leap
onto the roof of the garage next door.
© by Pat Brisson.
Used with the author's permission.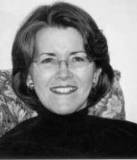 Pat Brisson is a former elementary school teacher, school librarian, and reference librarian in a public library. She has been writing picture books and easy-to-read chapter books for almost thirty years. Pat coordinates Project Storybook, a program at Edna Mahan Correctional Facility for Women in Clinton, New Jersey, which allows incarcerated mothers to select, record and mail books and tapes to their children. She received the N. J. Governor's Volunteer Award in Human Services for this wonderful project. Pat lives in Phillipsburg, New Jersey; learn more about her at www.patbrisson.com.
rhonasheridan:
Grown-up caution deprives us of so much. So sad. It's wonderfully pleasant remembering odd moments from the past that your parents never knew abou! This poem puts it all so well - thank you for it.
Posted 08/24/2015 03:57 AM
Cindy:
She still remembers what it's like to be a kid.
Posted 08/15/2015 09:56 AM
KevinArnold:
Wonderful, crafty poem. The turn 2/3 through, the wonderful move to the personal.
Posted 08/15/2015 08:39 AM
Larry Schug:
You don't have to leap to the garage roof, but get out there and climb a tree once in a while, even a metaphorical oak. Poems await. Good work.
Posted 08/15/2015 07:35 AM
Nabby Dog:
This poem is wise and wonderful in its depiction of the joy of the young boys in climbing tempered with the sober hesitation of the adult in the window. Who among us hasn't had those moments when we would like to shed our grown-up caution to make "that almost impossible leap / onto the roof of the garage next door"? This is a delightful poem and a perfect companion with which to greet the final days of summer.
Posted 08/15/2015 07:29 AM