for Maribeth
There is no yellow or no blue without orange. 
                                                             —Vincent Van Gogh
She is a Hermes' bag, voluptuous in orange,
a sleuthing tiger on a bottle of merlot,
the sepals of hibiscus. She is mangrove
leaf soaked in the sun, and California poppy
that sashays when she moves.

Gumball-bright and bold Moon over Miami,
a juicy orange HoneyBell, this girl is presence,
a slice of orange surfing in the dark blue Atlantic,
an orange prop plane trailing advertisements.

Occasionally she's a sharp cheddar or a hot curry,
a prickly pear or a habanero, but often a Monarch,
and always an orange free state of one.

Alone at home, she releases the orange helium
balloon of herself, kicks off the electric orange Zappo's.
She hangs the Hermes bag,
and becomes instead a lighted lampshade,
watches sunset, snacks on fresh carrots,
sips a fresh-squeezed screwdriver.
The room turns blood orange, bittersweet,
and burnt. She curls up in her chair,
both golden and translucence, sweet release
into the sealed amber of the night.
This poem was first published by Red Cedar Press (University of Wisconsin, Barren Campus, 2014).
Used here with the author's permission.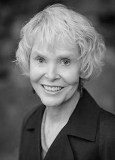 Mary Jo Balistreri is the author of two poetry books, Joy in the Morning and Gathering the Harvest, plus a chapbook, Best Brothers, published by Tigers' Eye Press. Mary Jo feels that losing oneself in the process of writing is healing, and that sharing poems, learning about the experiences of others, and the sensibilities and events that move them widens our circle of community. Learn more about her at http://maryjobalistreripoet.com/.
paula:
Orange flowers are blooming outside my window. Like you and your family they are strong, beautiful in every weataher.
Posted 08/24/2015 10:19 AM
ed werstein:
I'm seedless. I mean speechless.
Posted 08/24/2015 08:19 AM
jtmilford:
This voluptuous lady in orange sounds and looks like you!
Posted 08/23/2015 08:34 PM
Marianne Szlyk:
Thank you very much for forwarding this wonderful poem to me, Mary Jo. I really like how you depicted the different shades of orange, especially as your daughter retreated from her public persona. This really is a wonderful poem!
Posted 08/22/2015 09:04 PM
Cristina Norcross:
This poem just brings all of the senses alive! Such vibrancy. What a wonderful, vivid choice for a sunny, August day. Lovely work, Jo.
Posted 08/22/2015 05:16 PM
Renee:
Wow! Just a gorgeous poem, written for a gorgeous woman who we all love here in Rehoboth and Lewes! Mary Jo, I love your poetry.
Posted 08/22/2015 05:08 PM
vscholtz:
You find beauty and joy in all aspects of life. thanks for that.
Posted 08/22/2015 04:13 PM
ejoella:
No ones does it like you, Jo. What a vibrant poem. Great prop plane line! --Ethan
Posted 08/22/2015 03:46 PM
transitions:
I am...speechless, in awe of this masterpiece of a poem and I will never think of orange in the same way again...Namaste, dear Jo ~ Judy
Posted 08/22/2015 02:58 PM
loisflmom:
Beautiful and touching!
Posted 08/22/2015 02:43 PM
Jo:
Thank you everyone for your comments. Sending appreciation--always. Jo
Posted 08/22/2015 01:51 PM
Lori Levy:
I agree with all the comments below!
Posted 08/22/2015 01:17 PM
maribeth:
From the woman in orange herself....I love this poem...So glad to see it again. I still think of the night you read this to a packed room at Dogfish Head in Rehoboth...I'm proud of you, mom!
Posted 08/22/2015 01:04 PM
Janet Leahy:
I like the way the poem travels to the "alone at home" last stanza, love the "sealed amber of the night." Beautiful Jo, thank you.
Posted 08/22/2015 12:29 PM
Larry Schug:
A YDP top five poem! So full of that magic ingredient--texture.
Posted 08/22/2015 10:46 AM
becky evans:
A gorgeous poem! It's very touching that the orange fades to amber in the last line.
Posted 08/22/2015 10:22 AM
Maryann Hurtt:
such a fine poem, Jo. I will be looking at orange all day today. Thank you.
Posted 08/22/2015 09:33 AM
ladybug:
Wonderful imagery and powerful delivery - a wonderful poem! Susan
Posted 08/22/2015 09:16 AM
cork:
It is fitting that nothing rhymes with orange.
Posted 08/22/2015 09:01 AM
KevinArnold:
You had me with the inscription and first line. Great poem.
Posted 08/22/2015 08:44 AM
twinkscat:
"the room turns blood orange..." mine did too when I read this.
Posted 08/22/2015 08:21 AM
jeanie:
Beautiful, Jo. Vivid and touching. thank you ~~ jeanie
Posted 08/22/2015 08:08 AM
mimi:
lovely, lovely, Mary Jo, thank you!
Posted 08/22/2015 07:59 AM
tiddles:
Wonderful images! Love the "occasionally she's a sharp cheddar." Thanks for this poem today, Jo. Marilyn Windau
Posted 08/22/2015 07:16 AM
Barry:
WOW!!!!
Posted 08/22/2015 07:10 AM
rksanders@charter.net:
Beautiful, Jo--both poem and poet.
Posted 08/22/2015 05:46 AM