It's as if we're always preparing
for something, the endless† roll of the earth
ripening us.
†††††††††††††††††††††††††† Even on the most tranquil
late August afternoon when heavy heads
of phlox bow in the garden
and the hummingbird sits still for a moment
on a branch of an apple tree -
even on such a day,
evening approaches sooner
than yesterday, and we cannot help
noticing whole families of birds
arrive together in the enclosure,
young blue birds molted a misty grey,
colored through no will of their own
for a journey.
†††††††††††††††††††††††††† On such an evening
I ache for what I cannot keep - the birds,
the phlox, the late-flying bees -
though I would not forbid the frost,
even if I could.† There will be more to love
and lose in what's to come and this too:† desire
to see it clear before it's gone.
From Lasting Words: †A Guide to Finding Meaning Toward the Close of Life, by Claire Willis (Green Writers Press, Brattleboro, Vermont, 2014).
Used here with the authorís permission.
†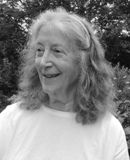 Mary Dominick Chivers grew up in Cody, Wyoming, the only girl in a family of five children. Her father was a doctor, a man of unquenchable energy, and Mary says, "We kids grew up riding and pack-tripping into the wilderness." In 1959, the family acquired a guest ranch in Sunlight Basin, fifty miles northwest of Cody, which it runs to this day. After college, Mary worked as a high school English teacher in Newton, Massachusetts, then married and moved to Andover, where she continued to teach poetry in public schools and writing workshops for adults. She began writing poetry herself at age fifty and, now retired and living in the White Mountains of New Hampshire, Mary continues to write, teach yoga, sing in two choirs, and garden.

rhonasheridan:
We don't have humming birds either!
Posted 08/28/2015 01:15 AM
rhonasheridan:
I read this poem yesterday, and agAin today and I shall probably read it again tomorrow. LateAugust at its best. A lovely poem. Here in Devon we do t have bluebirds _. But everything else is right on cue. Thank you
Posted 08/28/2015 01:13 AM
jtmilford:
A beautiful poem about living in the present. Thanks
Posted 08/27/2015 08:35 PM
tannerlynne:
ps... and I saw a molting cardinal just now out my window!
Posted 08/26/2015 01:50 PM
tannerlynne:
oh I am a day late..but I hope both Mary and Jayne find my message because I was so moved by this poem and by Jayne's photo. thank you
Posted 08/26/2015 01:49 PM
Jo:
Beautiful poem. I agree with Barry, a work of art.
Posted 08/25/2015 10:10 PM
ghctenmile@earthlink.net:
"It's as if we're always preparing for something, the endless roll of the earth ripening us..." This is so beautiful. Thanks for the words and the reminder. ghc
Posted 08/25/2015 11:45 AM
chris schulz:
"even on such a day/ evening approaches sooner/ than yesterday"....such a wonderful reminder to be present.
Posted 08/25/2015 10:25 AM
Sherry:
Just like Fall, beautiful and heart-breaking.
Posted 08/25/2015 10:08 AM
KevinArnold:
Strong ending.
Posted 08/25/2015 09:15 AM
Barry:
A work of art.
Posted 08/25/2015 08:05 AM
njc:
From beginning to end--perfect.
Posted 08/25/2015 07:43 AM
paula:
Very nice--especially the last lines
Posted 08/25/2015 07:01 AM
paradea:
Absolutely beautiful!!
Posted 08/25/2015 06:45 AM