I
You think back to childhood
when the days of summer seemed
endless, and time long enough.

Then the school bell rang,
and you woke with a jolt
into the mortality of arithmetic.

II

After supper, it was too dark
to go out again for very long,
then just too dark to go out,

then just too dark. So you begin
to learn to live with Night,
admire her, even love her a little.
© by Nils Peterson.
Used with the author's permission.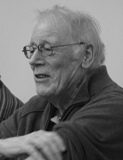 Nils Peterson is Professor Emeritus at San Jose State University. In 2009, he was chosen the first Poet Laureate of Santa Clara County. He has published poetry, science fiction, and articles on subjects as varied as golf and Shakespeare, and his work was featured in Local Habitations, a collection of work by fellow poets laureate of Santa Clara County. Enjoy reading Nils' memoir at http://www.echapbook.com/memoir/peterson/.
Wilda Morris:
I especially like this poem with its surprising language ("the mortality of arithmetic" and learning to live with Night. I would like to stay on daylight time all year so night doesn't come so early. Guess I have more to learn!
Posted 09/02/2015 08:31 AM
Dorcas:
Learning to live with Night. I am still trying.
Posted 09/01/2015 10:06 AM
barbsteff:
Love "the mortality of arithmetic!" and "to learn to live with Night." A poem celebrating loss.
Posted 08/28/2015 10:56 AM
Cindy:
Lovely. August always makes me a little sad just because of the feelings expressed in this poem.
Posted 08/28/2015 08:44 AM
KevinArnold:
Ross, Paradea, and Sherry are spot-on: like the nose of the camel under the tent, darkness, which must be dealt with, sneaks in about now.
Posted 08/28/2015 08:41 AM
Sherry:
I love this poem, Nils.
Posted 08/28/2015 08:26 AM
paradea:
Yes!!
Posted 08/28/2015 08:14 AM
Ross Kightly:
A sound working relationship with Madam Melancholy is a good thing!
Posted 08/28/2015 02:08 AM