Summer, I give up on you.
I roast the last batch
of home-grown tomatoes
with garlic, oil, and a pepper or two,
move my long-sleeved T-shirts
to the top of the stack,
put my swimsuit away in a drawer.
Now, the hair on my legs will grow long,
unnoticed, under my tights.
It is still two weeks till autumn's
official, but summer's gone—
it's damp now and cool.
What I long for: a box of pencils,
48 crayons, a new dress for school.
From The Congress of Luminous Bodies (Aortic Books, 2013).
Used here with the author's permission.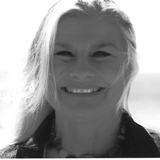 Donna Hilbert writes and teaches private workshops from her home in Long Beach, California. Her work is widely published in multiple languages and she is featured in the documentary, "Grief Becomes Me: A Love Story." Her most recent collection is The Congress of Luminous Bodies, from Aortic Books, and she has several poems in The Widow's Handbook (Kent State University Press). Learn more about Donna at www.donnahilbert.com.
penhart:
Love this one, Donna. Especially the annual ritual of a new dress for school. My Nana used to take me out to shop for one every year in elementary years. Ah, time... and oh yes, coveting the HUGE Crayola crayon box! Thanks for the memories!
Posted 09/07/2015 10:41 AM
loisflmom:
Oh, Donna, come visit me in FL. We are a really long way off from the end of summer. Those 48 crayons would melt in minutes if left outside!
Posted 09/05/2015 06:27 PM
KevinArnold:
Fun.
Posted 09/05/2015 10:44 AM
Shoshauna Shy:
Those 48 new crayons! I love the way school buildings smell when you first walk into them ---- like floor wax, Crayolas, chocolate milk breath -
Posted 09/05/2015 10:17 AM
Dorcas:
Delightful. I was always happy when it was time to go back to school, when Daddy gave me $$ to buy my own new clothes. Thanks for the memories.
Posted 09/05/2015 08:53 AM
Cindy:
I remember the smell of leaves burning after we had jumped in them all day. We can't burn them here any more. But I miss the smell.
Posted 09/05/2015 08:39 AM
Janet Leahy:
And what I long for are the new shoes for school, thanks for the memories Donna.
Posted 09/05/2015 08:02 AM
mimi:
perfect, Donna, and the same for me, except instead of long-sleeved t-shirts, I'm digging out the parkas! (can you believe we actually wore dresses to school???)
Posted 09/05/2015 07:29 AM
erinsnana:
I love love love this poem!!
Posted 09/05/2015 06:34 AM