Leaves flutter
& shimmy,
like fringed
flappers,
newly bobbed
& banged,
swinging
themselves free
at the edge
of the dance hall bar.


© by Deborah Hauser.
Used with the authorís permission.
†
†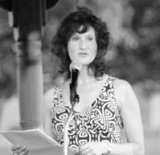 Deborah Hauser is the author of Ennui: From the Diagnostic and Statistical Field Guide of Feminine Disorders (Finishing Line Press, 2011). She received a Masters in English Literature from Stony Brook University and has taught at Stony Brook University and Suffolk County Community College. She has read her poetry at the Northeast Modern Language Association (NeMLA), New York University, Newman University, KGB Bar, and Bowery Poetry Club. She has presented her academic work at conferences including the Feminisms and Rhetorics Conference and graduate conferences at The City University of New York and Stony Brook University. Learn more about Deborahat http://deborahhauser.com/.
Lori Levy:
Especially like the sound and image of "newly bobbed/& banged."
Posted 10/08/2015 10:22 AM
KevinArnold:
Great energy here. I have a friend who sees dropping leaves as a symbol for letting go. This is quite different. They land, motors running.
Posted 10/08/2015 09:51 AM
Cindy:
nice image
Posted 10/08/2015 09:10 AM
paradea:
This IS fresh...and fantastic. Love it.
Posted 10/08/2015 08:54 AM
cork:
I love rhythmic leaves in fall.
Posted 10/08/2015 08:35 AM