A quarter of a century
since we left high school,
and we've gathered at a posh restaurant.
A little heavier, a little greyer,
we look for the yearbook pictures
caught inside these bodies of strangers.
Some of our faces are etched with lines,
the faint tracing of a lover's touch,
and some of our hair is silver-white,
a breath of frost.  And some of us are gone.
But he's here, the dark angel,
everyone's last lover, up at the microphone
singing "Save the last dance for me;"
he's singing a cappella, the notes rising
sweetly, yearningly toward the ceiling,
which is now festooned with tissue flowers,
paper streamers, balloons.
And we're all eighteen again,
lines and wrinkles erased, grey hairs gone,
our slim bodies back, the perfect editing.
A saxophone keens its reedy insistence;
scents of gardenias & tea roses float in the air
from our wrist corsages and boutonnieres.
No children or lovers have broken our hearts,
it's just all of us, together,
in our fresh young skin,
ready to do it all over again.
From Selected Poems (FutureCycle Press, 2015).
Used here with the author's permission.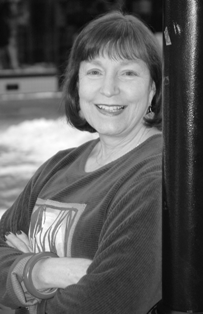 Barbara Crooker's poems have appeared in numerous magazines, journals, and anthologies and have been featured on the BBC, the ABC (Australian Broadcasting Company), The Writer's Almanac, and in the Poetry at Noon series at the Library of Congress. Her awards include the Thomas Merton Poetry of the Sacred Award, three Pennsylvania Council on the Arts Creative Writing Fellowships, fifteen residencies at the Virginia Center for the Creative Arts, a residency at the Moulin à Nef in Auvillar, France, and a residency at The Tyrone Guthrie Centre in Annaghmakerrig, Ireland. Barbara lives in Fogelsville, Pennsylvania; read more about her at www.barbaracrooker.com.
Jancan:
Your poignant description of a reunion is one almost anyone forty or beyond can relate too. Before long I'll go to my fiftieth--feeling an odd mixture of eagerness and dread. Than after a few minutes the dread will depart! Janice Canerdy
Posted 10/12/2015 10:33 PM
rhonasheridan:
What fun! Remembrances at their best
Posted 10/10/2015 01:03 PM
Barry:
I'm ready to do it all over again, and, as a first step, I am taking all the mirrors out of my house tomorrow. Thanks for a great poem.
Posted 10/10/2015 10:07 AM
paradea:
I'm back there, with this beautiful poem!!
Posted 10/10/2015 09:03 AM
KevinArnold:
Oh, the dark angel, a cappella.
Posted 10/10/2015 09:00 AM
mimi:
So beautiful and so true--and wait till you get to that 50 yr. mark--same thing!
Posted 10/10/2015 07:27 AM
phebe.davidson@gmail.com:
It's always a joy to find a Barbara Crooker poem in the morning!
Posted 10/10/2015 05:18 AM