Show me Old, if you can, in that lady on the bench.
Don't give me a number or the hunch of her shoulders,
skin like crepe.  I'm talking about her:
the breath who brought her bones to the park;
the one whose face turns to yours, eyes engaging
as you greet her this morning beneath the oak.
She's the shift in position, making room on the bench
for the flow to begin:  words strung together,
momentum picking up, until the body disappears
and all you see is what you hear—
flamenco in her voice, precision
in the points she makes, some that swirl you gently
in their grip, others more insistent
like heels clicking the floor.  Where is old?
In her pause to peel an orange
or pull chocolate from a bag?
In the men she's loved and lost?
The more I look for old, the younger she becomes.
She's simply had more time to climb
and fall.  More fabric torn,
more holes to patch.
© by Lori Levy.
 Used with the author's permission.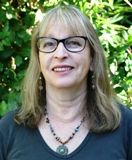 Lori Levy's poems have appeared in numerous literary journals, anthologies, and medical humanities journals in the U.S., England, and Israel. Having grown up in Vermont and raised three children in Israel, she now lives with her family in a multi-generational home in Los Angeles. Lori's four grandchildren keep her entertained, on her toes and, occasionally, inspire poems.
transitions:
Loved it
Posted 10/28/2015 01:16 PM
gailcomorat:
Truly lovely! Makes me want to read more of your poems.
Posted 10/13/2015 08:44 AM
mjs.ontheroad@gmail.com:
Ah! Lori knows us so well! I *love* the sisterhood of responses!
Posted 10/12/2015 04:47 PM
paradea:
Perfect!! Someone who can still 'see' us. Thank you for a lovely poem!!
Posted 10/12/2015 03:09 PM
plgoodman:
Well done, Lori. You've nailed it beautifully. I hate it when all people see is our wrinkles and glasses!
Posted 10/12/2015 02:06 PM
Musings:
well done. I feel as if I was on a nearby bench watching.
Posted 10/12/2015 02:03 PM
Jackie:
Thank you for noticing, and for the reminder. :-)
Posted 10/12/2015 12:10 PM
rhonasheridan:
Such a lovely poem. Makes the patches seem worth it.
Posted 10/12/2015 11:35 AM
Rosi:
Marvelous. I love this poem. "until the body disappears and all you see is what you hear"
Posted 10/12/2015 11:01 AM
wendy morton:
ah, the flamenco in her voice. Lovely.
Posted 10/12/2015 10:25 AM
Lori Levy:
Thank you all for your comments!
Posted 10/12/2015 09:58 AM
cork:
I hear the castanets!
Posted 10/12/2015 09:28 AM
Cindy:
beautiful
Posted 10/12/2015 08:52 AM
ElizabethP:
Excellent.
Posted 10/12/2015 08:45 AM
Glen Sorestad:
Bravo, Lori Levy! You have captured by thoughts and feelings with such precision and such artistic grace.
Posted 10/12/2015 08:43 AM
Larry Schug:
Excellent work. Old is just a term invented by the young, which is a term invented by the old. We are what we are this moment.
Posted 10/12/2015 08:41 AM
Linda Anger:
I shall look in my mirror with a new eye, thanks to this poem (and a wonderful weekend at Lake Junaluska!) "The more I look for old, the younger she becomes. She's simply had more time to climb and fall." What a magnificent piece!
Posted 10/12/2015 06:55 AM
Katrina:
This is gorgeous! I love the concentration on her breath and the musicality of her culture.
Posted 10/12/2015 04:25 AM