Do leaves dream of falling
on a stifling summer's day?
Of finally finding freedom
when the wind whisks them away?

Have they memory of the trees
that nourished them from birth?
That offered them the sun
and the fullness of the earth?

Are those first few hours of leaving
a delirious, fun-filled treat?
Is that why they burn brilliant
and turn cartwheels in the street?

Do they sense what is forthcoming
as autumn sneaks away?
Do they welcome winter's stillness
and a landscape cold and gray? 

I think these thoughts in watching
as my youngest packs his Jeep.
The leaving is the hardest
on those whose roots are deep.
© by Mike Orlock.
Used with the author's permission.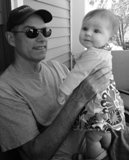 Mike Orlock is a retired high school English and American History teacher who splits time between the Chicago suburbs and a vacation home in Sturgeon Bay, Wisconsin. He has been married for 40 years to his high school sweetheart and inspiration, Liz, and greatly enjoys being grandfather to four beautiful little girls. Mike's short stories, poems, and reviews have appeared in a variety of publications and he was a Jade Ring winner in last year's annual contest sponsored by the Wisconsin Writers Association.
barbsteff:
The endig makes the poem.
Posted 10/15/2015 04:35 PM
JanetruthMartin:
brilliant! the ending made it exceptional.
Posted 10/15/2015 10:38 AM
Barry:
Love the way the surprise ending pulls it all together. Didn't see that coming. Great job!!!
Posted 10/15/2015 09:26 AM
ElizabethP:
Well done. Love the ending most especially.
Posted 10/15/2015 08:52 AM
cork:
I love both the rhythm and the rhyme and the surprise conclusion.
Posted 10/15/2015 08:38 AM
erinsnana:
I love this poem!
Posted 10/15/2015 08:24 AM
Jean :D:
I have delighted once again watching the beautiful leaves fall but I never thought of them turning cartwheels! What a thought provoking poem, I love it. Jean
Posted 10/15/2015 08:22 AM
mimi:
Mike, you are the King of rhyme! Love this and it'all so true...
Posted 10/15/2015 07:27 AM
Laurenepersons:
You have captured the melancholia and beauty that comes with fall well.
Posted 10/15/2015 07:19 AM
Katrina:
I like the wordplay of leaving.
Posted 10/15/2015 03:44 AM
rhonasheridan:
Delightful.
Posted 10/15/2015 03:24 AM