We're frantic, trying to save them,
our summer's offspring, our garden children.

We're cloaking the roses with deer hunter ponchos,
spreading old denim shirts on pumpkins,
capping Swiss chard with grocery store bags.
Maybe — can't go there but we will — we'll sneak out
Heather's prom dress to shield a squash vine.

The neighbors recoil at our refugee draping.
Who cares! We'll pretend we're rich eccentrics,
beyond the rules of normal behavior.

We're hauling in pots, that begonia, this foxglove,
a coleus now in an armchair.

The cats, displaced, are spooked.
We're their mewling hiss, not their meow.

Begging forgiveness, out the door we go,
on one more rescue mission.


This poem was originally appeared in the Wisconsin Poets' Calendar.
Used here with the author's permission.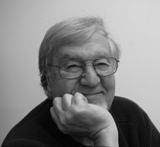 Like other gardeners at the end of the growing season, Richard Swanson falls prey to the bizarre rituals that go with trying to extend the life of plants. A retired teacher of English who live in Madison, Wisconsin, Richard publishes regularly in print and online. He enjoys gardening, reading, cooking, and being secretary for the Wisconsin Fellowship of Poets.                            
transitions:
Yes
Posted 10/28/2015 12:29 PM
mjs.ontheroad@gmail.com:
Perfect timing! Goodbye Impatiens! Goodbye Basil! Hang in there, geraniums--you can make it a few more days, maybe weeks!
Posted 10/17/2015 08:12 PM
ElizabethP:
Been there; done that; love the poem! :-)
Posted 10/17/2015 05:05 PM
Jo:
We had frost last night, and the deck flowers in the barrels were bedded down with blankets. I just peaked again and they are warm and cozy and still colorful. Thanks Richard. Could sure relate to this one.
Posted 10/17/2015 02:22 PM
pwax:
The poem moves quickly, as befits that frantic feeling. Well done, Richard!
Posted 10/17/2015 10:31 AM
rtaylor947@aol.com:
That line, "Heather's prom dress to shield a squash vine," is priceless.
Posted 10/17/2015 09:28 AM
Janet Leahy:
My morning glory vine—which has finally started to bloom—now is covered with sheets, yes the race to cover and bring in continues. Great poem Richard, thanks.
Posted 10/17/2015 08:51 AM
tiddles:
Frost here last night and expected again tonight. All the white sheets came out of garage storage yesterday afternoon. Made curtains for the garage wall pole beans, clothes pinned together. All will stay in place until tomorrow, after which it will be every plant for himself! Very timely poem. Good one!
Posted 10/17/2015 08:40 AM
Linda Anger:
Ha! We had the first frost two nights ago... this is such a perfect depiction of what many of my neighbors have done!
Posted 10/17/2015 05:34 AM