Outfield has the sweet green smell
of clover until you get close enough
to look for shamrocks and find
you've lost the scent and soon
you hear them shouting
screaming and calling you names
because that scary lump of leather
has landed there, a little meteor
nestled like a mushroom in the grass
right next to you.  It could
have landed on your head
but the other players shriek at you
and call you rude names in Spanish
until finally the bell rings
and you know you'll be forgiven
because you alone know
the helping verbs and nine times six;
they'll need you until P.E. tomorrow.
© by Tamara Madison.
Used with the author's permission.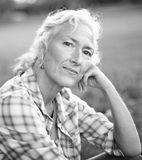 Tamara Madison teaches English and French at a public high school in Los Angeles. She was raised on a citrus farm in the California desert, and life has taken her many places, including Europe and the former Soviet Union, where she spent 15 months in the 1970s. A swimmer and dog lover, Tamara says, "All I ever wanted to do with my life was write, and I mostly write poetry because it suits my lifestyle; I like the way one can say so much in the economical space of a poem."
barbsteff:
Very clever. I too was a nerd who knew things, but dreaded a ball coming my way in the outfield!
Posted 10/22/2015 09:35 PM
suebee9@charter.net:
wonderful how she finds the joy in being a nerd!
Posted 10/20/2015 05:24 PM
Lori Levy:
Love the images in this poem.
Posted 10/19/2015 12:36 PM
anne.lehman2929@att.net:
This is so beautiful and familiar--except the "nine times six"...smile.
Posted 10/19/2015 10:25 AM
ElizabethP:
Perfect.
Posted 10/19/2015 09:54 AM
Cindy:
yup
Posted 10/19/2015 09:08 AM
Marilyn L Taylor:
Yes, this rings a loud bell. Very well done!
Posted 10/19/2015 08:51 AM
cork:
Would it be a long throw to the infield?
Posted 10/19/2015 08:38 AM
Larry Schug:
I was all about that baseball, discovered clover later in life. We had to play on tar at recess, no clover. Now both bring me great pleasure. Nine times six, not so much. Nice poem; very visual.
Posted 10/19/2015 08:12 AM
SarahRussell:
I resemble that poem...
Posted 10/19/2015 08:07 AM
erinsnana:
I so remember those days...thanks for the memories!
Posted 10/19/2015 06:22 AM
JanetruthMartin:
suddenly I was there in the outfield, waiting to be rescued by that glorious bell!
Posted 10/19/2015 06:13 AM
vscholtz:
P.E. the class that kept me off the honor roll. thanks for the sweet slant on an old memory.
Posted 10/19/2015 06:04 AM