and you say you want to be
somewhere else—a city
with energy, somewhere
besides this grief of leaves.

Geese have been watching
the sky too, wanting

to go anywhere
the moon is going.

All month the trees have been shining
with a certain kind of light.

There must be a needle in the heartwood
that pulls them through this quilt of loss.

Almost November and I want to be
nowhere else but here.

Here where the branches ache
with the cold ebb of light

and the juncos
fly in from the north

on winds
dependable as breath.

This poem first appeared in Fox Cry Review.
Used here with the author's permission.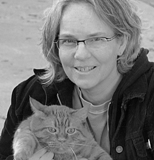 Jeanie Tomasko is a home health nurse in Madison, Wisconsin. Author of (Prologue), If I Confess Before 5:00, Sharp as Want, a poetry/artworks collaboration with Sharon Auberle, and Tricks of Light, she has three cats and enjoys all things nature, especially birds and long walks. Learn more about Jeanie at www.jeanietomasko.com.

jtmilford:
"All month the trees have been shining with a certain kind of light." Beautiful poem with November feelings. Thanks
Posted 10/29/2015 08:47 PM
Linda Lee Konichek:
Fresh,evocative images and feeling. I always expect something special when I see Jeanie's name on a poem,and this one is so perfect with its images and mood. "branches ache" "cold ebb of light." wonderful! Thank you!
Posted 10/29/2015 03:17 PM
rhonasheridan:
So perfect for November
Posted 10/29/2015 12:35 PM
Shoshauna Shy:
Ah, Jeanie, I am sharing this with friends!
Posted 10/29/2015 12:22 PM
Maryann Hurtt:
such a fine poem,Jeanie- that almost November ache described so well.
Posted 10/28/2015 10:27 PM
Jo:
Yes, imagery and language to love. You've captured that ache but also the beauty. Wonderful poem, Jeanie.
Posted 10/28/2015 02:29 PM
Lori Levy:
Beautiful language.
Posted 10/28/2015 12:43 PM
Ginny C.:
lovely poem
Posted 10/28/2015 12:01 PM
transitions:
Beautifully crafted poem...but personally, I want to be...'there'... Judy
Posted 10/28/2015 12:00 PM
wendy morton:
the quilt of loss. Lovely.
Posted 10/28/2015 11:22 AM
plgoodman:
Imagery and language to love. Thank you, Jeanie.
Posted 10/28/2015 11:12 AM
Judith Heron:
You have touched the ache of winter with such grace. Even on the west coast, I feel the 'winds dependable as breath'. Thank you.
Posted 10/28/2015 10:41 AM
ElizabethP:
Absolutely love this poem. Thank you.
Posted 10/28/2015 10:36 AM
Cindy:
I love it. Kind of wistful.
Posted 10/28/2015 09:23 AM
msruff:
Absolutely haunting. Great imagery.
Posted 10/28/2015 09:16 AM
Janet Leahy:
This poem will help me as I watch the wind blow another bounty of leaves to rake, thanks Jeanie for this wonderful poem.
Posted 10/28/2015 09:00 AM
KevinArnold:
Fun.
Posted 10/28/2015 08:51 AM
Gary Busha:
YES!
Posted 10/28/2015 08:27 AM
njc:
One of the finest poems I've ever read.
Posted 10/28/2015 08:19 AM
mimi:
the perfect morning to read one of your perfect poems...beautiful, Jeanie!
Posted 10/28/2015 07:55 AM
rksanders@charter.net:
This is beautiful, Jeanie.
Posted 10/28/2015 07:06 AM
JanetruthMartin:
stunning! I esp. love this line... There must be a needle in the heartwood that pulls them through this quilt of loss.
Posted 10/28/2015 06:41 AM
rnordstrom:
Beautiful poem.
Posted 10/28/2015 05:23 AM
paula:
A wonderful accumulation of language.
Posted 10/28/2015 04:38 AM
r1manchester:
very nice!
Posted 10/28/2015 04:13 AM