Shadows bloom and wilt across the patio, our new home sheds flakes of bright paint,
and, of course, it is October; the neighbors we don't know
hang pumpkin lights like lamb's blood over the threshold,
and from their porch rocking chairs stare at us, the strangers.

We disguise ourselves with smiles and wave. 
And why not? Let the leaves fall and the grass grow high,
our new life floats around us in the frost-free air,
and we own the chaos of autumn; the weeds
would grow between our toes if we'd linger
 
into another two seasons. We are giddy enough
for a picket fence or a pink flamingo
and bring out Baby to see the splendor.
"Here," we say like good parents, "is the color red
and over there, the irrepressible orange of joy."



From Local News from Someplace Else (Wipf and Stock, 2013).
Used here with the author's permission.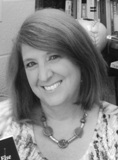 Marjorie Maddox is Professor of English and Creative Writing at Lock Haven University. At the age of 8, Marjorie published her first poem in Campfire Girls Magazine. Eleven books and six chapbooks later, she still loves writing poetry, fiction, creative nonfiction, and children's literature. Her forthcoming works include Wives' Tales (Seven Kitchens Press), her first short story collection, What She Was Saying (Fomite Press), and a middle grade biography, A Man Named Branch, the True Story of Baseball's Great Experiment (Zing!) about her great granduncle Branch Rickey, general manager of the Brooklyn Dodgers, who helped break the color barrier by signing Jackie Robinson. Learn more about Marjorie at www.marjoriemaddox.com.
Cindy:
nice
Posted 10/30/2015 02:47 PM
Lori Levy:
Love the "irrepressible orange of joy"!
Posted 10/30/2015 12:09 PM
ElizabethP:
That is wonderful.
Posted 10/30/2015 10:14 AM
paradea:
A nice cup of 'orange' to start off the day!! I LIKE this poem!!!
Posted 10/30/2015 06:55 AM