The old fisher couple sit at their kitchen window
on the outer Guernsey coast, sipping their second
cup of Irish tea, on the table a starched white cloth,
a sugar bowl with painted roses, lace in the window?
they listen to the storm rising and watch the puffins
struggle against the gale to return to empty nests
now that autumn has come, I remember them well

they glance at each other, ignoring the wrinkles
and weathered skin, silently confirming their hidden
thoughts? that time has blown away with the tides
though they are still here at the dining table, fingers
almost touching, waiting for winter to force them
under feather quilts where they will warm each other's
feet and sleep soundly through their long night.
This poem first appeared in Verse-Virtual (July, 2014).
Used here with the author's permission.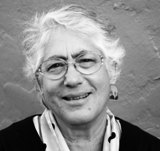 Emily Strauss has an M.A. in English, but is self-taught in poetry, which she has written since college. Over 200 of her poems appear in hundreds of online venues and in anthologies. The natural world is generally her framework; she also considers the stories of people and places around her and personal historiesoften focuses on the tension between nature and humanity, using concrete images to illuminate the loss of meaning between them. A semi-retired teacher living in California, when she's not writing, Emily enjoys gardening, cooking, camping, and hiking.
Jancan:
I enjoyed this beautifully descriptive poem. Janice Canerdy
Posted 11/02/2015 11:53 AM
Cindy:
a relationship like that would be priceless
Posted 11/01/2015 05:19 PM
transitions:
I could see them, there at the window, lovely poem...
Posted 11/01/2015 01:00 PM
jtmilford:
A beautiful picture, all that is needed is a beautiful golden frame.
Posted 11/01/2015 11:44 AM
Lori Levy:
Beautiful language. Very tender.
Posted 11/01/2015 11:29 AM
ElizabethP:
Wonderful word painting. Thank you.
Posted 11/01/2015 09:34 AM
rhonasheridan:
Mmm.........loved it.
Posted 11/01/2015 08:19 AM
njc:
What a lovely picture this paints. A delight to read, over and over.
Posted 11/01/2015 08:05 AM
Donal Mahoney:
I don't think you have to have known elderly Irish couples to love this poem but I speak from quite a bit of experience when I say that it certainly brings back memories and forces me to fight back a few tears.
Posted 11/01/2015 06:15 AM
Katrina:
I get a sense the puffins supply the quilts.
Posted 11/01/2015 02:19 AM