for Ginny
My sister calls it her Bang Theory:
people look the same day after day,
and then, about every five years,

bang, they change. At age seventy,
she says the Popcorn Plan takes over:
little pops happen daily.

And this explains the stranger I see
in the mirror. Bang, pop, pop, pop!
she no longer reflects the me I know.

I look after her as best I can
since she masquerades around town
and pretends to be me.
From Marriage and Other Leaps of Faith, (Penciled In, 2015).
Used here with the author's permission.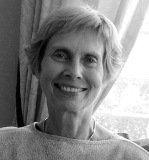 Jeanie Greensfelder is a psychologist who seeks to understand herself and others on this shared journey filled, as Joseph Campbell said, with sorrowful joys and joyful sorrows. Jeanie grew up in St. Louis and now lives, with her husband Andy, on the central coast of California, where she volunteers as a bereavement counselor. Jeanie's poems have appeared in numerous journals and anthologies; learn more about her at www.jeaniegreensfelder.blogspot.com.
jtmilford:
So very funny but true. Happens at 85 too.
Posted 11/05/2015 02:58 PM
Lori Levy:
Funny!
Posted 11/04/2015 09:17 PM
chris schulz:
Ms J. I was just reading about Georges LeMaitre theory about singularity....everything is connected back to the source...so while you might be popping and banging, so is the universe....feel better???
Posted 11/04/2015 10:37 AM
transitions:
Well done. I agree and empathize...
Posted 11/04/2015 09:57 AM
phebe.davidson@gmail.com:
All I can add is a hearty "Amen!"
Posted 11/04/2015 09:29 AM
carel:
Maybe the laughter I experienced while reading your poem is about acceptance and a bit of wonder. Thanks. carel@genevaonline.com
Posted 11/04/2015 09:08 AM
cork:
How big will be my BANG at 80 in three months? Will I still be me?
Posted 11/04/2015 08:35 AM
Larry Schug:
Obviously, you're poetic soul is still very vibrant, Jeanie. Personally, I don't do mirrors except to look at my teeth as I brush them. The final verse is especially awesome!
Posted 11/04/2015 08:11 AM
Katrina:
I love the literally detached self criticism
Posted 11/04/2015 07:50 AM
Barry:
Love it!!
Posted 11/04/2015 07:14 AM
paradea:
I absolutely love this poem!!! I was just telling my own sister the same thing...that I think we age in five-year increments and one of mine just happened lately. Hopefully, now I can relax for another five years until the mirror surprises me again!!
Posted 11/04/2015 07:12 AM