I came bearing tea, bread and poetry
to talk about sadness this rain-slashed afternoon.
It's the leaves, you said, they let go so gently
this late in the year as if, finally, they have accepted?
We watched, saying nothing for a while.
You showed me tamarack, blazing golden
the brilliant yellow of ferns in wet grasses.
 
Now tonight there are first whirling snowflakes.
Among them still shimmers a scarlet shrub,
though last week there was a hard frost.
In the bush two roses are blooming
fresh and bright, even a third buds in the snow.
We do not expect these gifts in November.
So much we don't expect in this life ~~
 
            how bravely flowers can bloom in winter,
            how sorrow can reside so near to joy,
            how sometimes they can be the same.
© by Sharon Auberle.
Used with the author's permission.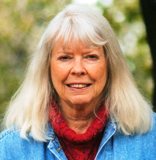 Sharon Auberle is a poet and photographer. She loves water and winter, the subjects of many of her poems, and is happy to be back in the land of her roots—the Midwest—after nearly twenty years in the drought-stricken Southwest. Sharon is the author of four poetry books, two of which also contain her photos, as well as several collaborations of her photos with other poets. When not writing or out in the woods, Sharon can be found on Facebook or hanging poems and pictures at her website, Mimi's Golightly Café. She freely admits that both take time away from her poetry. Learn more about Sharon here.
mimi:
all your good words are much appreciated...thanks to all. Sharon Auberle (aka Mimi)
Posted 11/20/2015 09:14 PM
ElizabethP:
Wonderful. Especially the ending: "how bravely flowers can bloom in winter, how sorrow can reside so near to joy,how sometimes they can be the same.
Posted 11/20/2015 05:35 PM
transitions:
Such a memorable poem...read it earlier and came back to savor it again. Agree, of course, with all the comments - beautiful, filled wiith grace and hope. One of my very favorite Y.D.P. I thank you...Judy
Posted 11/20/2015 04:54 PM
carel:
"So much we don't expect in this life." A hopeful thought, along with your beautiful poem, as we await our first big snow in southern Wisconsin. Carol
Posted 11/20/2015 04:48 PM
Janet Leahy:
Tonight will bring the "first whirling snowflakes" in our area, this poem calmed me after recent events in our world, so wonderful to have poetry close at hand. Thanks Sharon
Posted 11/20/2015 01:32 PM
Jo:
Beautiful poem, Sharon, and how true. I'm coming late to read you, but savoring your words with my coffee.
Posted 11/20/2015 01:31 PM
mimi:
thanks so much, everyone! Sharon Auberle (aka Mimi)
Posted 11/20/2015 01:14 PM
Lori Levy:
Beautiful.
Posted 11/20/2015 10:17 AM
barbsteff:
Lovely and poignant poem, Sharon. It speaks the truth.
Posted 11/20/2015 10:14 AM
TheSilverOne:
Beautiful, quiet poem...touches the heart. Always a joy, reading your poetry!~~~Doris
Posted 11/20/2015 09:49 AM
wendy morton:
how sorrow can reside so near to joy. A wonderful poem.
Posted 11/20/2015 09:36 AM
dotief@comcast.net:
Wow! Absolutely wonderful! Gives me a "thrill of hope" even as our winter approaches.
Posted 11/20/2015 09:21 AM
njc:
Well said.
Posted 11/20/2015 08:38 AM
peninsulapoet:
Beautiful poem by one one my favorite poets. Lovely way to begin the day.
Posted 11/20/2015 08:31 AM
mjorlock:
Beautifully written, Sharon. You paint with words.
Posted 11/20/2015 08:21 AM
Cindy:
Sorrow and joy can be the same, yes.
Posted 11/20/2015 08:19 AM
Maryann Hurtt:
Yes, Sharon. Thank you.
Posted 11/20/2015 07:04 AM
rksanders@charter.net:
Thank you for this lovely poem, Sharon. It is very moving.
Posted 11/20/2015 06:28 AM
paula:
Beautiful, Sharon
Posted 11/20/2015 06:19 AM
Gary Busha:
Yes. Clear and perceptive tone and observations.
Posted 11/20/2015 06:08 AM
rnordstrom:
Lovely poem
Posted 11/20/2015 05:50 AM