I am in the corner of the front room
at 5010 W. Wilson Ave., Chicago, Illinois.
My phone number is Pensacola 6-8616.
I am 6 years old and watching my dad
create this yearís perfect Christmas tree.

Fat, glass, football-shaped lights
strapped to each other 8Ē apart
by braided threads over wires
wait quietly in a musty smelling
cardboard box at my feet.
Two prongs at the black rubber socket end
jab my bare ankle above white doggy slippers.

My chenille bathrobe is warm and too short.
It used to be Helenís
but Iím even taller than she is now.

Dad has in his hand a drill
with a funny looking, U-shaped crank.
He is lying on the carpet,
his balding head under pine branches,
his glasses tilted, eyes squinting
at the task:
to fill in boughs where boughs are needed.

A pen knife whittles spare branch ends
and with a shove and a twist:
ďAh, thatís better!
How does it look, Snooks?Ē

ďItís beautiful, Dad!
Can we put the pretties on now?Ē
†
© by Marilyn Zelke-Windau.
Used with the authorís permission.
†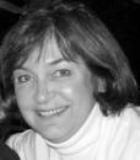 Marilyn Zelke Windau is a Wisconsin poet and a former elementary school art teacher. She enjoys gardening and painting, as well as painting with words. Marilynís poems have appeared in many printed and online venues as well as in several anthologies. Her chapbook,†Adventures in Paradise†(Finishing Line Press), and a full-length, self-illustrated book of poetry, Momentary Ordinary†(Pebblebrook Press),†were both published in 2014. Marilyn is a member of the Wisconsin Fellowship of Poets.
TheSilverOne:
Beautiful memory...Enjoyed the poem.~~Doris
Posted 12/06/2015 09:25 PM
loisflmom:
I had forgotten the drill and spare branches, but still remember the tinsel strands applied perfectly straight, and one by one.
Posted 12/06/2015 08:34 PM
Jo:
enjoyed reading your poem, Marilyn. Brought back lots of memories.
Posted 12/06/2015 02:50 PM
KevinArnold:
Great poem. Thanks.
Posted 12/06/2015 02:18 PM
paula:
So good to hear your poetic voice.
Posted 12/06/2015 01:57 PM
Lori Levy:
Paints a very clear and beautiful picture.
Posted 12/06/2015 01:27 PM
Barry:
Lovely!!!
Posted 12/06/2015 11:53 AM
MyrraJ:
Happy Festivities, Mom! It's a peek into your childhood and reminders of my own. I love seeing it posted here!
Posted 12/06/2015 10:36 AM
Dorcas:
not perfect to the young on-looker, missing trimmings, the best.
Posted 12/06/2015 10:35 AM
jeeger:
Awww!
Posted 12/06/2015 08:29 AM
Maryann Hurtt:
sweet pretties, Marilyn.
Posted 12/06/2015 08:17 AM
Janet Leahy:
This same tree-fixing happened at our house. Another father who wanted a perfect tree for his family. Thanks for the memories.
Posted 12/06/2015 07:59 AM
Cindy:
I know it is about a little girl's Christmas tree, but I REALLY like her father. He comes across as such a patient and kind man. Lucky Marilyn!
Posted 12/06/2015 07:56 AM