What are the juncos doing
in the snow-burdened pines
on this ice-on-every-twig-'n'-needle-night
in strict December?
             Singing…
© by David Alpaugh.
Used with the author's permission.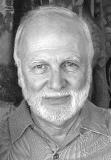 David Alpaugh has been a featured poet at bookstores, colleges, cafes, and poetry organizations in the San Francisco Bay Area more than 100 times. His first full collection, Counterpoint, won the Nicholas Roerich Poetry Prize from Story Line Press, and his poetry and essays have appeared in numerous literary journals. David holds degrees in English from Rutgers University and the University of California, Berkeley, where he was a Woodrow Wilson and Ford Foundation Fellow. He was also a finalist for Poet Laureate of California. Learn more about David at www.davidalpaugh.com.
transitions:
Robins leave, juncos arrive, forage on the ground late autumn, through winter; reversed in spring in WI. sprightly little birds, dressed in neat gray tuxedos. Nice poem too!
Posted 12/12/2015 08:12 PM
Lori Levy:
This short poem sings--like the juncos (which I never heard of until now!)
Posted 12/12/2015 05:37 PM
barbsteff:
Juncoes are small birds that come to Upper Midwest in mid-autumn and stay for the winter. They're often seen foraging on the ground. I don't know how far their range extends beyond northern Illinois and Wiscosin.
Posted 12/12/2015 12:17 PM
KevinArnold:
I like the call-and-response feel. Singing, in italics.
Posted 12/12/2015 11:11 AM
paradea:
Don't know what a 'junco' is, but I want one!!! Great little poem!! P.S. Jean: The kids left in early spring????
Posted 12/12/2015 08:59 AM
jeeger:
Of course!
Posted 12/12/2015 08:33 AM
Wilda Morris:
Clever title and poem, considering how hard it is to see juncos and other birds you can hear twittering in the pines but can't locate behind the twigs and needles.
Posted 12/12/2015 07:06 AM
Jean :D:
Years ago I kept a very active bird feeder year round & the juncos followed the snow line from Canada down to WI.in winter. I could predict the coming of snow 2 days in advance by their hungry appearance. Drove my kids crazy :) They left in early spring.
Posted 12/12/2015 06:53 AM