Back and forth they swipe and wipe,
brushing off the rain.
On and on they never pause
clearing off the panes.†
Push one button and they're on,
flicking fog and rain.
Oh, to have the same within,
wipers for my brain.
© by†Susan Hyde.
Used with the authorís permission.
†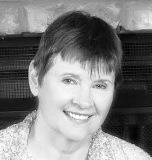 Susan Hyde is a student, teacher, widow, mother, and grandmother who has spent her life trying to figure out what she wants to do. After years of trying this and that, she stumbled into a poetry class led by a remarkable retired teacher and, after a year under his guidance, glimpsed how poetry could work or be a dud. Finally dipping pen in ink (metaphorically) after all this time, Susan has begun to decide what she thinks about the world and her way within it, exploring topics ranging from her feral cat to international politics. Poetry is now her way to put life in nutshells. Susan, the author of A Listing Wind, lives in Dallas, Texas.
Jancan:
My kind of poem, I love this. Janice
Posted 12/21/2015 08:57 AM
transitions:
Fun poem and I could use those too :)
Posted 12/19/2015 10:37 PM
Lori Levy:
Loved the bio and the poem! I could use some of those brain wipers.
Posted 12/19/2015 12:18 PM
Ross Kightly:
When you find them do send me the link Susan, please. Pretty-please!
Posted 12/19/2015 02:19 AM