the house settles back into itself,
wrapped up in silence, a robe
around its shoulders.  Nothing
is roasting in the oven or cooling
on the countertops.  No presents
are waiting to be wrapped, no cards
fill the mouth of the mailbox.
All is calm, all is bright, sunlight
glinting off snow.  No eggnog, no yule
log, no letters to be licked
and stamped. No more butter
cookies, no more fudge, just miles
to go on the treadmill, another round
plate added to the weight machine.
All our good intentions pave the road.
We stride out into the new year,
resolute to become firm, to define
our muscles, to tighten our borders.
The thin tinsel of the new moon
hangs in the dark sky, a comma
dividing the sentence between
last year's troubles and this year's
hopes.  The calendar ruffles her pages,
a deck of shiny cards, deals out
a fresh new hand.

From Small Rain (purple flag, 2014).
Used here with the author's permission.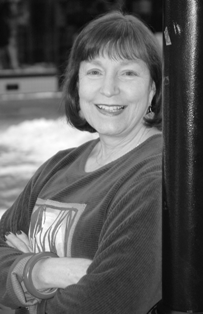 Barbara Crooker's poems have appeared in numerous magazines, journals, and anthologies and have been featured on the BBC, the ABC (Australian Broadcasting Company), The Writer's Almanac, and in the Poetry at Noon series at the Library of Congress. Her awards include the Thomas Merton Poetry of the Sacred Award, three Pennsylvania Council on the Arts Creative Writing Fellowships, fifteen residencies at the Virginia Center for the Creative Arts, a residency at the Moulin à Nef in Auvillar, France, and a residency at The Tyrone Guthrie Centre in Annaghmakerrig, Ireland. Barbara lives in Fogelsville, Pennsylvania; read more about her at www.barbaracrooker.com.
Jo:
Beautiful poem, Barbara. Hoping for a winning handl, but whatever, we'll play what we're dealt. Happy New Year.
Posted 12/30/2015 10:37 PM
Dorcas:
Very nice. The cards are dealt, some the same hand. May it be a winning hand.
Posted 12/30/2015 07:13 PM
barbsteff:
Barbara has nailed it! Such a positive yet wry message, skillfully done.
Posted 12/30/2015 11:05 AM
phoswald:
Another good poem by Barbara released for us to read just at the right time of the year. I have the good fortune to have the book Small Rain which was personally autographed to me. All of her poems are delightful and meaningful.
Posted 12/30/2015 09:38 AM
peninsulapoet:
A wonderful poem by a poet who never seems to miss a beat.
Posted 12/30/2015 09:21 AM
paradea:
Great!!
Posted 12/30/2015 08:33 AM
Larry Schug:
Readers, Barbara also has a poem on Garrison Keillor's "The Writer's Almanac" today! Way to go Barbara! This has got to be a great day for you and for us, your readers. Good work should be rewarded.
Posted 12/30/2015 08:17 AM
mimi:
Barbara's poems are the BEST!
Posted 12/30/2015 08:12 AM
phebe.davidson@gmail.com:
Another set of sure steps from Barbara Crooker---the perfect balance between then/now, old/new, done/intended---all delivered with just enough of the wry to bring us home.
Posted 12/30/2015 06:07 AM
Katrina:
This is beautifully written and beautifully delivered. Thank you Barbara. Thank you Jayne. It is true; the night-time punctuates our days. Shuffled are our options.
Posted 12/30/2015 05:26 AM
r1manchester:
is there ever a "bad poem" by Ms. Crooker? I doubt it! Not with lines like "The thin tinsel.....". Just plain nice!
Posted 12/30/2015 03:15 AM
Ross Kightly:
Yep, that's the smart approach - pick up the cards you're dealt each morning and play your hand the best way you can! Let's not worry too much where the road leads that's paved with our good intentions - there's many a chance of a twist or turn to come. Excellent poem, many thanks.
Posted 12/30/2015 02:14 AM