Another year to mend those fences if you can,       
those tattered hearts, to water grass on this side   
till it's as green as the other.
Let us have champagne and pickled herring,
a chunk of rye bread and poems for breakfast.
Let that pale sun rise far to the south
and ice creep up north windows.
                        My African friend says
                        I wish u best of d best. 
Funny how beliefs fall away as we age —
dreams, ideas, salvations,
all dropped along the way
till there's just this —
cold ash in the fireplace
and an empty wine bottle.
              Still there are rainbows
              scattered on the ceiling
              from a crystal someone gave me
              long ago, and hope,
                             always there is hope —
that this year will bring us peace                
also that thing we most desire                    
                            and may they be the same,
                            forever may they be the same.
© by Sharon Auberle.
Used with the author's permission.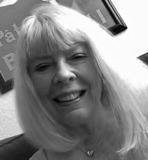 Sharon Auberle is a writer and photographer who, after seventeen years in the Southwest, has found the true place of her heart in Door County, Wisconsin. Her poems and photos have appeared in numerous publications and online magazines, and in a number of anthologies. Sharon is the author of a memoir in poetry, two collections containing both her poems and artwork, and several collaborations with other poets. For reasons which are still a mystery to her, she has authored a blog, Mimi's Golightly Café, for ten years. Learn more about Sharon here.
barbsteff:
Very fine poem, what we all want for New Year's.
Posted 01/02/2016 12:28 PM
Jancan:
This is beautiful and powerfully worded. Thanks for sharing it! Janice
Posted 01/02/2016 10:10 AM
rhonasheridan:
A perfect New Year poem. Loved it
Posted 01/02/2016 07:40 AM
Jo:
What a wonderful poem for the New Year, for any time. Came home to this late now in the evening, and your generosity is awesome. Thanks, Sharon.
Posted 01/01/2016 09:55 PM
mimi:
thqnk you all, for your kind and generous words..I wish for each and every one health and happiness in the coming year! Sharon Auberle
Posted 01/01/2016 07:09 PM
transitions:
Oh my...chills ~ What a poem...thanks. Judy
Posted 01/01/2016 06:38 PM
wendy morton:
Poems for breakfast. Rainbows. Hope.
Posted 01/01/2016 11:07 AM
Janet Leahy:
Love having "poems for breakfast" the perfect poem for a new day and a new year. Thank you Sharon for weaving words into beautiful poems.
Posted 01/01/2016 10:48 AM
KevinArnold:
What a wonderful poem to wake up to on NY day. For me it is the schmaltziest day of the year. Sharon's poem, of course, rises above my nostalgia-laden thoughts.
Posted 01/01/2016 10:40 AM
Tom Blessing:
Hi, Sharon. Good to read you this first day of the new year. May it be a fantastic one. Tom (from Calumet)
Posted 01/01/2016 10:07 AM
Gilbert Allen:
A generous, heartfelt poem.
Posted 01/01/2016 08:47 AM
Laurenepersons:
Amen.
Posted 01/01/2016 08:32 AM
mjorlock:
What a wonderful way to begin a new year...with a poem by one of my favorite poets. Thanks, Sharon, for sharing.
Posted 01/01/2016 08:32 AM
paradea:
This is beautiful!
Posted 01/01/2016 07:56 AM
jeeger:
Perfect poem from an amazing poet to bring in the new year...yes, may they be the same.
Posted 01/01/2016 07:19 AM
sailor27:
Good one Sharon!
Posted 01/01/2016 06:48 AM