Yonder see the morning blink:
The sun is up, and up must I,
To wash and dress and eat and drink
And look at things and talk and think
And work, and God knows why.

Oh often have I washed and dressed
And what's to show for all my pain?
Let me lie abed and rest:
Ten thousand times I've done my best
And all's to do again.

How clear, how lovely bright,
How beautiful to sight
Those beams of morning play;
How heaven laughs out with glee
Where, like a bird set free,
Up from the eastern sea
Soars the delightful day.

Today I shall be strong,
No more shall yield to wrong,
Shall squander life no more;
Days lost, I know not how,
I shall retrieve them now;
Now I shall keep the vow
I never kept before.

Ensanguining the skies
How heavily it dies
Into the west away;
Past touch and sight and sound
Not further to be found,
How hopeless under ground
Falls the remorseful day.


This poem is in the public domain.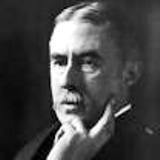 Alfred Edward Housman (1859 – 1936) was an English poet best known for a collective work called A Shropshire Lad, which has remained consistently in print since first published in 1896. A renowned scholar of the classics, Alfred was, for many years, a professor of Latin at Trinity College in Cambridge, where he had a reputation for terrorizing his students and never bothering to learn their names. Widely known and admired even now, Alfred's work is referenced in, and excerpted from, everything from movies to comic books.
barbsteff:
Wonderful sense of humor. Capsulizes the never-ending struggle with housework, but, written by a man of his age, undoubtedly refers to other tedious recurring jobs.
Posted 01/07/2016 03:13 PM
paradea:
Love this!
Posted 01/07/2016 08:34 AM
Michael:
What a treat to encounter the work of masters! Simple, musical, delightful, true.
Posted 01/07/2016 08:09 AM
KevinArnold:
Wonderful poem. What am I doing up? But, of course, I am.
Posted 01/07/2016 07:48 AM