Classical music's
Gotta go.
All the surveys
Tell us so.
Brahms is boring.
Bach is dreary.
Morning drive time
Should be cheery.

Grieg is stale.
Mozart moldy.
Give us this day
Our golden oldie.
Tchaikovsky's pathetic.
Schubert's a nerd.
And once is too much
For Beethoven's Third.

The past is over.
Let's clean house.
Out with Verdi.
Good-bye Strauss.
Curtains for opera.
Unstring that cello.
Make the music
Soft and mellow.
Whether you're driving,
Or trying to score,
Lean back, relax,
While our ratings soar.
Mile after mile
Commute with a smile.
So bye-bye Beethoven,
And don't touch that dial!
Excerpted from "Four Songs from Tony Caruso's Final Broadcast" in Pity the Beautiful (Graywolf Press, 2012).
Used with the author's permission.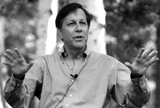 Dana Gioia is an internationally acclaimed poet and critic and, currently, the Poet Laureate of California. Once VP of Marketing at General Foods, Dana's tenure as chairman of the National Endowment for the Arts resulted in the launching of such projects as Poetry Out Loud and The Big Read, as well as significant surveys about arts awareness and impact in the U.S. Author of four full-length collections of poetry, eight chapbooks, numerous anthologies, and three collections of criticism, most notably Can Poetry Matter? (1992), he has also written three opera libretti and is an active translator of poetry from Latin, Italian, and German. Dana divides his time between Los Angeles and Sonoma County, California. Learn more about him at www.danagioia.net.
transitions:
Agree with rtaylor.
Posted 02/16/2016 03:07 PM
rtaylor947@aol.com:
Enjoyed this tongue-in-cheek poke at pop culture. Gioia once wrote that poets ought to write more prose about poetry. Here we are, doing that.
Posted 02/16/2016 01:47 PM
Lori Levy:
Like the way rhyme works so well in this poem!
Posted 02/16/2016 01:04 PM
Dorcas:
Horrible! Why then have the Masters lasted and the contemporaries replaced next year?
Posted 02/16/2016 10:15 AM
Michael:
Dana's commentary on contemporary culture is pinpoint accurate. Thank you!
Posted 02/16/2016 10:10 AM
Jo:
I agree with Phebe and couldn't say it anybetter.
Posted 02/16/2016 08:29 AM
phebe.davidson@gmail.com:
I want to applaud until my hands hurt.
Posted 02/16/2016 06:10 AM
Andy W:
While i like lots of different generes of music this makes me sad. Classical music is the heart of music.
Posted 02/16/2016 05:11 AM
Ross Kightly:
As one whose greatest joy in radio was once when BBC Radio 3 devoted an entire weekend non-stop to playing ALL of the works of the Greatest of them All - Johann Sebastian Bach I have to say I laughed out loud at this superb poem. Thank you Jayne for bringing us this from Dana.
Posted 02/16/2016 04:34 AM