†
I will walk in winter
when bears are sleeping
deep in their caves.
I will rush into living,
stride out afield,
my jacket bright
against bare trees and snow.

Oh, winter, sing to me
when shadows blush
with blue-white cold.
Sing while I breathe in
pristine air
from field to pines.

Call back to crows
above the boughs,
and join me, fox and doe.
Let eager spring hear
heartbeats in our songs.
†
© .by JoanWiese Johannes.
Used with the authorís permission.
†
†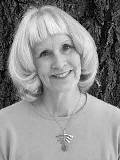 Joan Wiese Johannes is retired from a rewarding and challenging career as an English teacher. The author of several poetry collections, she also composes music for Native American-style flute and includes it with her poetry readings. Joan believes that Thornton Wilder was right when he wrote that only poets and saints truly appreciate life while they are living it. Hardly a saint, Joan appreciates the life she shares with her poet/artist husband, Jeffrey, in Port Edwards, Wisconsin.
†
†
TheSilverOne:
Lovely, musical poem!
Posted 03/03/2016 06:14 PM
Jancan:
This is a lovely, uplifting song! Janice
Posted 02/28/2016 08:22 PM
Jo:
I almost hear the flute you play so beautifully. No wonder the poem is filled with such music.
Posted 02/28/2016 06:56 PM
Janet Leahy:
Stanzas get shorter as we move toward "eager spring," let it come soon!
Posted 02/28/2016 01:58 PM
Lori Levy:
Beautiful images. I especially like "jacket bright/against bare trees and snow."
Posted 02/28/2016 01:21 PM
pwax:
Nice opening line to wonderful ending, this poem is full of music.
Posted 02/28/2016 11:29 AM
jeeger:
Makes me feel like we should all join in, quietly though, as we walk through winter into spring.
Posted 02/28/2016 11:13 AM
paradea:
Makes me feel alive and cold, all at the same time!! Great job!!
Posted 02/28/2016 09:04 AM
ElizabethP:
This is just lovely. Beautiful word pictures; I can see and feel it all. Thanks!
Posted 02/28/2016 08:55 AM
rhonasheridan:
Beautiful
Posted 02/28/2016 07:31 AM