From our youth to our age
We have passed each stage
      In old immemorial order,
From primitive days
Through flowery ways
      With love like a hedge as their border.
Ah, youth was a kingdom of joy,
      And we were the king and the queen,
           When I was a year
           Short of thirty, my dear,
      And you were just nearing nineteen.
But dark follows light
And day follows night
      As the old planet circles the sun;
      And nature still traces
      Her score on our faces
           And tallies the years as they run.
      Have they chilled the old warmth in your heart?
           I swear that they have not in mine,
                Though I am a year
                Short of sixty, my dear,
           And you are ? well, say thirty-nine.

This poem is in the public domain.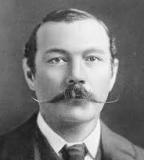 Arthur Conan Doyle (1859 - 1930) was a British author and physician best known for creating the character Sherlock Holmes. In addition to that wildly successful series of crime stories, he also wrote plays, poetry, nonfiction, and historical books. Conan, as he was called, credited his love for writing and storytelling to his mother, who had little money but a lively imagination that she used in creating stories to entertain her children. A friend and classmate at the University of Edinburgh of James Barrie (author of Peter Pan) and Robert Louis Stevenson, Conan was an active athlete and a devoted spiritualist. Learn more about him at http://www.arthurconandoyle.com.

transitions:
Wonderful!
Posted 03/12/2016 08:34 PM
Mary Lou Taylor:
This hits home. Today is my birthday, and I am…..39! Again!
Posted 03/12/2016 02:14 PM
JanetruthMartin:
love it
Posted 03/12/2016 01:11 PM
rhonasheridan:
Well, well! I really enjoyed that.
Posted 03/12/2016 10:13 AM
Jancan:
What a great poem! You chose a good poem for us for today. Janice
Posted 03/12/2016 09:22 AM
erinsnana:
I loved it!
Posted 03/12/2016 08:48 AM
KevinArnold:
Now there are love poems and there is this!
Posted 03/12/2016 08:34 AM
paradea:
Smart man!!!
Posted 03/12/2016 08:11 AM
Newf:
What a wonderful poem. Love the beautiful sentiments and the age bit is just delightful.
Posted 03/12/2016 07:26 AM
Ross Kightly:
As if Holmes, Watson, Mrs Hudson, the Baker Street Irregulars and Moriarty were not enough! Hail to thee, blithe spiritualist, no horizon is too distant!
Posted 03/12/2016 02:19 AM