Because I make mistakes,
Because sometimes I take the right turn
When I'm supposed to take the left,
Or the left turn
When I'm supposed to take the right,
Because sometimes I walk straight on
When I'm supposed to stop,
Or loiter when
I should be walking on ?

It's because I know I make mistakes
That I'll think a hundred times and more
Before I turn my back on you
When you make them too ?
When you take the right turn
Instead of the left,
Or the left one
Instead of the right,
Or when you keep walking
When you should be stopping,
Or begin to loiter
Instead of walking on?

I'll understand your plight ?
And together we'll fight
For our right to make mistakes
And mend our truant ways.


© by Gautam Sen.
Used with the author's permission.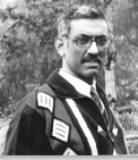 Gautam Sen lives in Kolkata (Calcutta), India. Widely published in various print and online publications around the world, Gautam is the author of a nonfiction best-seller in India called The Mind of Swami Vivekananda, a children's novel, The Fantabulous Fens, and two volumes of essays and letters. Says Gautam, "My inner life has always centered round three things: my wife (my inspiration), meditation, and my literary efforts. My wife passed into spirit a few years ago, but my priorities have remained the same."
rhonasheridan:
It is so nice to start the day reading gentle thoughts.
Posted 03/15/2016 01:58 AM
Lori Levy:
Great! I wish everyone had this philosophy.
Posted 03/14/2016 05:32 PM
Trudy Wells-Meyer:
passed into spirit . . . close to your heart- how close is that. . . .
Posted 03/14/2016 07:48 AM
JanetruthMartin:
truly touching. thank-you for the kindly-hearted reminder!
Posted 03/14/2016 06:14 AM
Newf:
Good one!
Posted 03/14/2016 04:42 AM