Have you ever felt your heart beat
When you wake at night
The cool sweat upon your brow
Warming up with fright
You sense a presence near you
Your hair begins to creep
You want to close your eyes again
Pretend to be asleep.

The thumping pulse within your chest
Is pounding in your head
Your body feels like iron
Bolted to the bed
The air is bursting in your lungs
You dare not let it slip
The fear is automatic
It has you in its grip.

Then your wide eyes focus
To search the darkened room
Everything is as it was
Showing through the gloom
As the fear is slowly lifted
You ease down on your side
And once again go back to sleep
With one eye open wide.

© by Peter Kilby.
Used with the author's permission.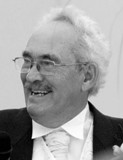 Peter Kilby says he has been writing poems ?for as long as I can remember." Brought up from the age of two in various homes (his compelling memoir was published by Penguin in 2013), he learned to love poetry as a child and, as an adult, has published several poems for children. A veteran of Royal Navy, merchant navy and army service, Peter is now retired from a career as an architect and lives in Gloucestershire, England.
transitions:
Relate ~ well done!
Posted 03/24/2016 10:11 AM
Penelope:
I certainly can relate to this. It is nice to hear from a Gloucestershire poet. That is my mum's home county, and my second home.
Posted 03/23/2016 08:15 PM
pwax:
You've nailed the feeling! And the stages we move through to make sure nothing (nobody) is there.
Posted 03/23/2016 02:27 PM
barbsteff:
Nope. As an older woman, when I wake up it's to go to the bathroom. Sigh…
Posted 03/23/2016 11:10 AM
twinkscat:
I can totally relate. Thanks for sharing.
Posted 03/23/2016 10:50 AM
Jancan:
Been there, done that! Perfect description of the experience. Janice
Posted 03/23/2016 07:45 AM
Newf:
I've had bad dreams but nothing like this. Awful.
Posted 03/23/2016 06:01 AM
rhonasheridan:
Loved it. I know exactly how he felt.
Posted 03/23/2016 05:23 AM