They sit around the house
not doing much of anything: the boxed set
of the complete works of Verdi, unopened.
The complete Proust, unread:

The French-cut silk shirts
which hang like expensive ghosts in the closet
and make me look exactly
like the kind of middle-aged man
who would wear a French-cut silk shirt:

The reflector telescope I thought would unlock
the mysteries of the heavens
but which I only used once or twice
to try to find something heavenly
in the windows of the high-rise down the road,
and which now stares disconsolately at the ceiling
when it could be examining the Crab Nebula:

The 30-day course in Spanish
whose text I never opened,
whose dozen cassette tapes remain unplayed,

save for Tape One, where I never learned 
whether the suave American 
conversing with a sultry-sounding desk clerk
at a Madrid hotel about the possibility
of obtaining a room
actually managed to check in.

I like to think
that one thing led to another between them
and that by Tape Six or so
they're happily married
and raising a bilingual child in Seville or Terra Haute.

But I'll never know.
Suddenly I realize
I have constructed the perfect home
for a sexy, Spanish-speaking astronomer
who reads Proust while listening to Italian arias,

and I wonder if somewhere in this teeming city
there lives a woman with, say,
a fencing foil gathering dust in the corner
near her unused easel, a rainbow of oil paints
drying in their tubes
on the table where the violin
she bought on a whim
lies entombed in the permanent darkness
of its locked case
next to the abandoned chess set,

a woman who has always dreamed of becoming
the kind of woman the man I've always dreamed of becoming 
has always dreamed of meeting.

And while the two of them discuss star clusters
and Cézanne, while they fence delicately 
in Castilian Spanish to the strains of Rigoletto,

she and I will stand in the steamy kitchen,
fixing up a little risotto,
enjoying a modest cabernet,
while talking over a day so ordinary
as to seem miraculous.
From Haywire (Utah State University Press, 2006).
Used with the author's permission.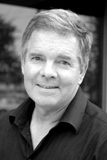 George Bilgere has lived in Japan, Spain, and, most exotically of all, Cleveland, where he currently resides. A teacher at John Carroll University, where he is host of a weekly radio program called Wordplay, George is the author of six collections of poetry, the latest of which is Imperial, an exploration of being "middle-aged and middle class in mid-America." Learn more about him at http://www.georgebilgere.com.
paradea:
Makes it "ALL" okay!! Love it.
Posted 03/27/2016 08:59 AM
jtmilford:
Bravo beautifully stated.
Posted 03/25/2016 08:54 PM
Lori Levy:
Really like this one!
Posted 03/25/2016 01:39 PM
Gilbert Allen:
Not only funny but also thought-provoking--as the best humor always is.
Posted 03/25/2016 12:20 PM
Shoshauna Shy:
I discovered Bilgere's books last year, and aim to get *all* of them.
Posted 03/25/2016 11:56 AM
marilynfleming:
Thank you. What a wonderful poem. I rarely comment but I had to, for this one.
Posted 03/25/2016 11:27 AM
Dorcas:
Thank you. I know of all the cultures and Masters you mention. All that matters enscounced in your room with room for more. In the words they have already been attained. Hold fast such dreams.
Posted 03/25/2016 11:16 AM
Mary Lou Taylor:
Delightful!. And Amen.
Posted 03/25/2016 10:13 AM
cscoville:
I believe that Mr. Bilgere must have inventoried my living room before writing this poem - and he also read my mind. Once again, I feel more connected to the universal through poetry.
Posted 03/25/2016 09:28 AM
Jancan:
This is excellent! I love the wry humor. The poem makes me feel better about the unfinished--or un-started--projects, etc., in my closets and desk drawers! Janice
Posted 03/25/2016 08:55 AM
Laurenepersons:
I love this poem. I have a beautiful black lace "hanger dress" for the Spanish women to wear. Perhaps she meets the man of her dreams at the Cleveland Art Museum's Salsa Dancing!
Posted 03/25/2016 07:59 AM
phebe.davidson@gmail.com:
Bravissimo! (Terra[sic] Haute notwithstnading)
Posted 03/25/2016 07:30 AM
r1manchester:
This just "flows" downstream to a quiet and happy place. Very nice!
Posted 03/25/2016 06:45 AM
rhonasheridan:
What a wonderful poem. Line by line I recognise it and line by line it is a poem that is a joy to read.
Posted 03/25/2016 03:50 AM