Backyard neighbors
decades before
& three funerals
later, they meet again
at the grocery store
after he's wintered
in San Diego.
Trade suggestions
for cinnamon rolls,
updates on great-
grandchildren.
Spend July twilights
on her screened porch,
iced tea from a pitcher.
There are short story
collections to read
aloud, Scrabble scores
to tally, Netflix rentals
of DeNiro & Streep

for they have rescued
each other from suppers
over the sink & a box
of Cheerios, telephones
draped in cobwebs,
hauntings by happier
holiday weekends;
presented one another
with the bouquet
of Let's & Would you
                      like to
This poem first appeared in Orange Room Review.
Used here with the author's permission.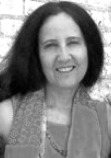 Shoshauna Shy reads short stories to trigger ideas for poetry, and is the author of four poetry collections. She runs the Poetry Jumps Off the Shelf program out of Madison, Wisconsin, and works for the Wisconsin Humanities Council. She also has a cat care business, which lends itself to quiet time for reading and writing.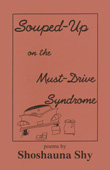 jtmilford:
What a beautiful way slide out of life.
Posted 04/01/2016 08:32 PM
Shoshauna Shy:
To all of you ---- I loved reading your thoughts! Yes, this is completely true: my nextdoor neighbor behind a white picket fence had outlived two husbands, (the second whom keeled over right after their wedding). When she told me about her new steady, and said, "He makes me feel 18 again!" the poem emerged. Both of them are now long gone, but for me, this poem keeps them here. To Cork: I'm delighted to hear that Cheerios and Scrabble are part of *your* daily life! It's the small pleasures, isn't it? Thanks again, everyone, for your comments.
Posted 04/01/2016 03:06 PM
Jo:
What a terrific poem. I love it.
Posted 04/01/2016 02:11 PM
rhonasheridan:
Loved it!
Posted 04/01/2016 10:55 AM
barbsteff:
Caches a scene, and a bit of the human condition, so well.
Posted 04/01/2016 10:40 AM
transitions:
I hope it was all true as well...lovely poem. Judy
Posted 04/01/2016 10:15 AM
erinsnana:
love it!
Posted 04/01/2016 09:59 AM
Jancan:
I love the style and message of this lovely, moving poem: It's never too late. Janice
Posted 04/01/2016 09:46 AM
njc:
--a complete little universe.
Posted 04/01/2016 09:21 AM
paradea:
Good one!!
Posted 04/01/2016 09:15 AM
cork:
I eat Cheerios and we play Scrabble every day at eighty and seventy-six.
Posted 04/01/2016 08:47 AM
Gilbert Allen:
I suspect that the title resonates with the text of this fine poem in different ways, for different readers.
Posted 04/01/2016 08:30 AM
mimi:
tender poem, thanks, Shoshauna! Sharon Auberle
Posted 04/01/2016 07:58 AM
rnordstrom:
Very nice. Love the bouquet.
Posted 04/01/2016 07:46 AM
Laurenepersons:
In the early winter of a well-seasoned life, I know the power of "let's" and "would you like to." Bravo.
Posted 04/01/2016 07:23 AM
Linda Anger:
Ms. Shy's work is always delightful! Thanks for sharing this, Jayne!
Posted 04/01/2016 06:31 AM
Newf:
Just love it.
Posted 04/01/2016 05:08 AM