We winter our aging hearts    
         turtled underground
like darkened mornings
          waiting spring blossoms.
April's sun
          melts away closed-in grudges
tendering peace.
Adoration springs like dandelions
          cocky in their golden faith
even as frost coats greening blades.
          Each new sun's a promise.
We revel in cherry blossoms
          pinking the sky.
© Kit Zak.
Used with the author's permission.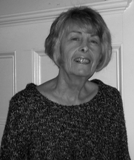 Kit Zak retired from university teaching and relocated to a beach town in Delaware. She and her husband were involved for several years in projects to clean local air and water. They love taking trips with their five grandchildren, who live across the United States. Since retirement, Kit finds her muse summoning her at 3 A.M. She has been selected three times to participate in seminars with Delaware's poet laureate.
morbius:
may my aging heart forever look to Spring, and renewal...........a former student who now calls the West home.....
Posted 12/12/2021 11:08 AM
morbius:
Wonderful
Posted 12/12/2021 11:05 AM
Jo:
You use of words makes me want to write. Wonderful, Kit. I so enjoyed.
Posted 04/07/2016 06:55 PM
Joan Cannon:
Wonderful, humble, layered. Love it!
Posted 04/07/2016 09:58 AM
ElizabethP:
Exquisite. Thanks!
Posted 04/07/2016 09:42 AM
transitions:
Lovely ~
Posted 04/06/2016 05:27 PM
Lori Levy:
Beautiful language.
Posted 04/06/2016 12:59 PM
barbsteff:
When we actually get some April sun (Wisconsin), I'll agree. Interesting language.
Posted 04/06/2016 10:56 AM
Caro70:
Fresh, vibrant language that helps us see the season with new eyes!
Posted 04/06/2016 09:27 AM
carel:
Your poem speaks hope for me on this chilly and cloudy Wisconsin morning.
Posted 04/06/2016 09:25 AM
Jancan:
Lovely and lively--like the season it celebrates; great figures of speech! Janice
Posted 04/06/2016 08:37 AM
erinsnana:
nice!
Posted 04/06/2016 08:08 AM
Larry Schug:
An astute observation of the human condition remade into art. Very nice.
Posted 04/06/2016 07:33 AM
Newf:
Reminds me that, yes, blooms will actually appear. My tulips were emerging and now are snow covered, but they will survive. The poem has a peaceful feel. I just love it. Many thanks. Kit Zak I will look for more of your work.
Posted 04/06/2016 07:30 AM
plgoodman:
I'm envious of your magnificent metaphors Kit. Beautiful.
Posted 04/06/2016 07:29 AM