She steps from the small boat
to the green verge by the river,
walks in small paces through grass
studded with English daisies and primroses
to a terrace of large flat stones.
Footed urns hold ivy cascades,
red geraniums stain gray sky
and French doors open silently before her.
†
Inside the vast room, dim despite
the long, narrow windows, books
from floor to ceiling are interspersed
by statues of strong women.
Linen-fold oak covers walls
not already fronted by books,
a fire glows in the hearth
at the narrow end.
†
Ladders on a rail frame high shelves
and a circular staircase leads
to a mezzanine where more books
carry the eye higher. Enchanted,
she turns a slow arc, absorbs the smell
of old leather, dust motes dancing
in rays of a reluctant sun,
the glint of gilt on ancient spines.
†
She trails her fingers along the rows of books,
plucks one at random, one that feels good,
reaches the slouched leather chairs
in front of the fire, settles in
for the rest of her life.
†
© by Patricia Wellingham-Jones.
Used with the authorís permission.
†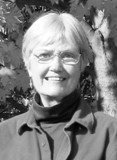 Patricia Wellingham-Jones lives on a creek in rural northern California where she enjoys writing about the things that happen around her Ė past and present. A retired RN, psychology researcher, and editor/writer/publisher, she is the author of a number of books and has a special interest in healing writing. Chapbooks include Donít Turn Away, poems about breast cancer; End-Cycle, poems about caregiving; Apple Blossoms at Eye Level, Voices on the Land, and Hormone Stew.

Jo:
Me too, Larry. To have found this place through your poem is a slice of heaven.
Posted 04/10/2016 03:49 PM
transitions:
Sounds like heaven to me! A beautiful poem, thank you...Judy
Posted 04/10/2016 12:47 PM
Lori Levy:
The poem pulls me in to a very tempting place!
Posted 04/10/2016 11:04 AM
Larry Schug:
Oh man! I just want to spend the rest of my day (my life?)in that place with your protagonist. Thanks for taking me there.
Posted 04/10/2016 08:14 AM
Newf:
Me too Jean D, sheer bliss. Thank you Patricia for the wonderful poem.
Posted 04/10/2016 08:00 AM
Jean :D:
Sounds Ideal to me, or as the kids say, "sounds like a plan"!
Posted 04/10/2016 05:21 AM