for Jan Gebert
I know the ones most people know: robins,
cardinals, and I can recognize a woodpecker
with my eyes closed. But I envy people who
can label the others, those birds from far
away, the ones who drop by for a week

or two just to startle and delight watchers
smart enough to know how rare rare
birds can be. I love the ones with striking
rainbow feathers, but I can't give them
a name, the same for that super cool bird

with feet like red boots. I love that guy
but I don't know his name either.
Sometimes I feel I'm at a giant bird party
and wish they were wearing "Hello,
My Name Is …" tags so I could join

in the pleasure real watchers have,
those who can spot a bird on a branch
or winging on a piece of sky and, like God
in Eden's Garden, look at them with love
then give each of them a name.


© by Edwin Romond.
Used with the author's permission.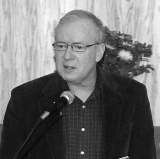 Edwin Romond is a poet, playwright, composer, and educator. Now retired, he taught English for more than 30 years in Wisconsin and New Jersey. Edwin's award-winning work has appeared in numerous literary journals, college text books and anthologies, and has been featured on National Public Radio. He maintains an active schedule of readings and presentations; check www.edwinromond.com to see if he's appearing anywhere in your area. A native of Woodbridge, New Jersey, Edwin now lives in Wind Gap, Pennsylvania, with his wife and son.
Lori Levy:
Definitely identify with this poem!
Posted 04/12/2016 01:55 PM
Jo:
Like the idea of tags, Ed. Naming is important for me--always looking up their names.
Posted 04/12/2016 10:22 AM
Dorcas:
God entrusted humankind to name the creatures of the Earth, so I guess you can name any bird as you chose.
Posted 04/12/2016 09:49 AM
ElizabethP:
Great, great poem! I am learning more of those names - but often have to use a book/field guide to help me out. The name tag idea is awesome. ;-) thanks for sharing.
Posted 04/12/2016 09:24 AM
KevinArnold:
Wonderful poem. Names are of such importance to we word people.
Posted 04/12/2016 08:18 AM
paradea:
Yep. They're always here. The world would be an empty place without birds. Like this poem a lot.
Posted 04/12/2016 07:39 AM
JanetruthMartin:
i feel the same way:) enjoyed this poem a few reads through. simply wonderful!
Posted 04/12/2016 07:32 AM
jeanie:
one bird at a time ... love your poem!
Posted 04/12/2016 06:21 AM
phebe.davidson@gmail.com:
Hi Ed---how are you on scarlet tanagers? Painted buntings? (I never saw either one till I left Jersey, then went crazy tracking down their titles. . .) -- you force us all to ask "What's in a name?"
Posted 04/12/2016 05:21 AM
Newf:
Me too!!
Posted 04/12/2016 02:07 AM