is forever           green        meadows       sunlit
butterflies            and             buried
             raw bones             chewy in tall grass
                             soft for romping and rolling

Always flowing             waters          where only friends lap
      no leashes              enough trees        games of fetch

No one says roll over           or beg          or down boy,
No vehicles     except boys on bicyles       packing baseball gloves

There are quick rains                that leave puddles      and snow
     that goes as softly and swiftly as it comes.

An unspoken alliance exists between                   Great Danes
     and teacup Chihuahuas

                    Cats are
                                   invited in

                                            each Wednesday

                                                                    for an hour only.
© by Ruth Moose.
Used with the author's permission.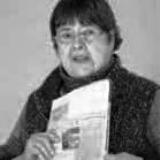 Ruth Moose was on the Creative Writing faculty at the University of North Carolina-Chapel Hill for 15 years. Author of three collections of short stories and six collections of poetry, her work has appeared in many U.S. publications and in Holland, South Africa, England and Denmark. Ruth was awarded a MacDowell Fellowship and, in 2009, received the prestigious Chapman Fellowship for Teaching. Her debut novel, Doing it at the Dixie Dew, was awarded a $10,000 Malice Domestic Prize. Ruth's next novel, Wedding Bell Blues, is scheduled for publication in August 2016 by St. Martin's Press. Ruth lives in Pittsboro, North Carolina; learn more about her at www.ruthmoose.com.
ems:
A Cat's Response to "Dog Heaven" always green meadows? sure, we love a nice snip of grass as well as the next dog and we like flowing waters too to lap our fill and eye those fish careless enough to come near trees also-- we'll climb up just to tease you dogs romping without leashes, silly dogs do you think you're faster now that you've earned your place here where we need no alliances? and no, we don't read signs, calendars are imaginary here, so are clocks-- anyway we're having a grand time reminding you who is really king who rules our lovely yard you haven't grown wings so keep barking, we'll just sit on this branch and smile.
Posted 04/21/2016 11:18 AM
transitions:
Lovely!
Posted 04/18/2016 11:59 AM
ElizabethP:
Made me smile. :-)
Posted 04/18/2016 10:56 AM
cork:
I smiled at the "trees."
Posted 04/18/2016 08:19 AM
vortex:
lovely!
Posted 04/18/2016 08:09 AM
Gilbert Allen:
Although I'm a cat person, and it's only Monday, I enjoyed this vivid poem.
Posted 04/18/2016 07:40 AM
paradea:
This is wonderful!! Love it!
Posted 04/18/2016 07:28 AM
jeanie:
Love the cat part!
Posted 04/18/2016 07:05 AM
Jane Eva Cooper:
Wonderful!
Posted 04/18/2016 02:10 AM